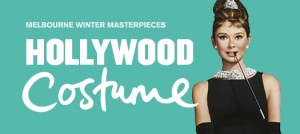 Clothes!
Think of a movie you loved – think of the main character and focus on the scene you loved best.  I bet if you are a woman you will think of what your character is wearing.
Perhaps that is not always true when you think of THAT scene in the Deli from the movie When Harry Met Sally. I'd be interested to know if anyone can remember what Sally was wearing.  I can't.
Who can forget the green velvet  dress made from a curtain that Scarlet O'Hara wears when she visits Rhett Butler in prison in Gone With the Wind.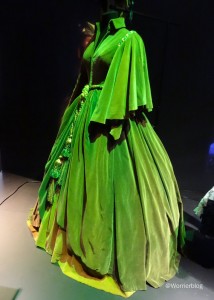 This dress in the exhibition of Hollywood costumes at ACMI.  It appears that in real life it was made from a curtain.  It looks heavy, the curtain fringe is there and the thick silken chord that was used to tie back the drapes is a feature in the front.  Stunning.
Another of my favourites was one of the last exhibits I came upon was the costume worn by Mel  Gibson when he played William Wallace in Braveheart.  That was a film that moved me immeasurably and to see the clothes that Mel Gibson wore was one of the highlights for me.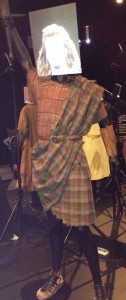 There are some amazing clothes on show with a whole section of costumes worn by Meryl Street including a brilliant one from Mamma Mia.
Where are all these costumes stored?  It was a question I kept asking myself as I shuffled around with the crowds.  It seems that they belong to private collections and have been borrowed for the exhibition.
Besides looking at the displays the exhibition gives us information on the role of clothes play in movies and tells us how  the character the actor is playing is intertwined with the clothes designed for the part.  The process of getting this right is a collaboration between almost everyone involved in the film.  The details of how this works is described in interviews with designers, directors and the actors.
Besides taking us back stage as it were it also shows what a fascinating and rewarding job the designer has.  I wondered when I left how many young people saw that as another career opportunity and set their sights on it.
As you step into the display area you step into a dark and glistening area. I guess this like being in a Movie theater with brilliant display on the screen.
There is magic in film making and this come through with exhibition. I came out bringing a little  of that magic with me.
If you get chance go and gaze at this splendour.  Try to go early in the day when there are likely to be less people.  It is a popular exhibition.
What:-
Hollywood Costume Exhibition.
Where:- ACMI – Australian Centre for the Moving Image
Federation Square
Times:- Until 18th of August
Every day 10.00am to 5.00pm – Thursday until 9.00pm
Web:- http://www.acmi.net.au/
Hollywood Costume runs at ACMI until 18 August 2013.