-a makeover – watch the street artists work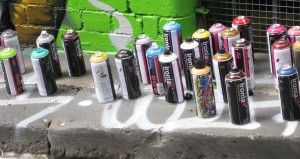 Go to Hosier Lane in the next couple days and you will be met with a rare sight.  Blank walls.
Hosier Lane is getting a makeover.   The art you know has been blacked out and  about 100 Melbourne artists are working to give the lane a new look.
HOSIER Lane is one of Melbourne's best known art galleries.  Visitors from all over the world come to view the art in the laneway.
The makeover is being organised by The Allyourwalls, a  project supported by the National Gallery of Victoria.  The idea is keep Hosier Lane vibrant and up-to-date.  The artists behind this embrace the change.
The new art will included graffiti, stencil and paste-up.
Now is the time to check it out.  Artists are perched on top of cherry pickers, and ladders and are crawling around on ground to reach the spots they want to touch up. Check it out in this video.
The art work will be ready for viewing on 30th November.  In the meantime it is fascinating to watch the artists at work.  They all seem happy to work with crowds watching them, discussing  them and their work and photographing them.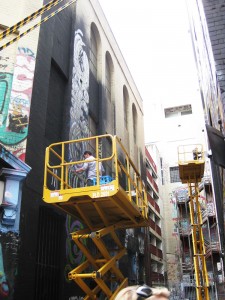 It takes a cool head to keep working with so much going on around you.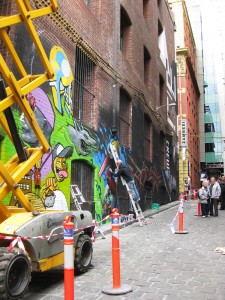 Where:-
Hosier Lane
It is located between Flinders Lane and Flinders Street. The entrance from Flinders Street is opposite the entrance to Federation Square