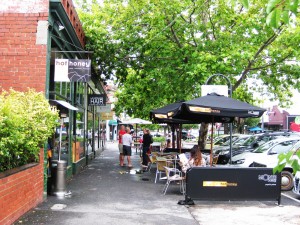 One of my favourite breakfasts in Melbourne is at Hot Honey in Armstrong Street, Middle Park.  I eat breakfast there about three or four times a year and I always choose the same thing. I never eat anything else.
Recently we were there again and thought we needed to  study the menu and move on.  We told each other that ordering the same thing every time we walked through the door was boring.   We studied the menu.  We discussed various options.  We looked at the plates on the tables near us.  We mentioned to our waiter that we thinking of trying something different and told him what we usually ate.
He said, "Why don't you try it with a poached egg?  When I eat it that's the way I have it."
That decided us.  So once again we ordered,  'House made corn bread with grilled bacon, fresh avocado and tomato salsa and sour cream' and then we added, "With a poached egg".
We smiled at each other  "That's different" we both said at once.
Why be adventurous when you know what you want?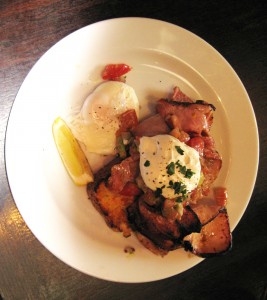 House made corn bread etc with a poached egg.
This is an example of what we could have had if we had moved away from the 'tried and loved'.
'Beetroot and sunflower loaf topped with smashed roast pumpkin and ricotta and balsamic beetroot reduction'.
For something more spicy; 'Middle Eastern Eggs: two poached eggs in a rich Napoli sauce with chickpeas, Dukka, and a mint coriander and green chilli salsa'
Anything with poached eggs would be good their poached eggs were cooked, perfectly.
Where:-
Hot Honey
40 Armstrong Street
Middle Park
Phone:-
9696 1900
Hours:-
7.30am to 5.00pm seven days a week.
Getting there:-
96 Tram – you get off at the Mart Cafe where the food is delicious and the atmosphere unique so drag yourself past that and cross Canterbury Road and head into Armstrong Street.
Find out more about Hot Honey from their web site.