A day out at the beach can be expensive.  Everything along the foreshore is at a premium. It's expensive Real Estate; the rents are high and  business hope to recoup from the patrons.  So it is a great surprise to come across Il Divo at Port Melbourne.  Il Divo has taken over the space that was once Pings – on the corner of Nott Street.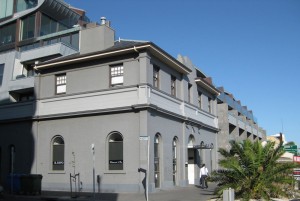 The outside tables at Il Divo have expensive sea views.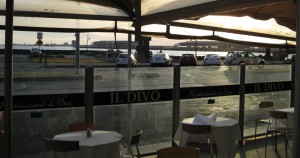 For a $10 meal and a $6.00 glass of wine you can sit at one of these tables, admire the view and be well fed.
The menu has a list of specials at $10.00 and $15.00 as well as menu with more expensive dishes.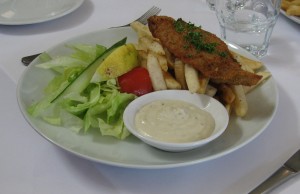 Fish and chips at  Il Divo $10.00.  Lamb shanks are also excellent at $10.00.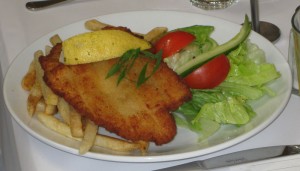 Chicken Schnitzel at Il Divo $15,00
We were early eaters and from 6.30pm onwards family groups and groups of friends were drifting in.  The place is spacious with the tables a good distance from each and the sound level is low making it easy to chat in a group.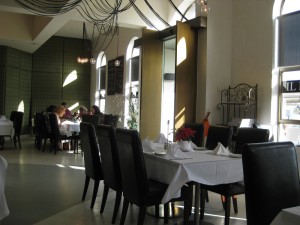 Il Divo in Port Melbourne is part of a chain of restaurants – there is one in the City, at 260 Collins Street, Altona Meadows, Campbellfield and Footscray.  It is good solid fare that doesn't seem to vary in quality.  If this is what you like there is the offer a Birthday Club membership which gives you one meal for free for your birthday present.
A Birthday Club has been running very successfully, for a number of years,  at Taco Bill's in Port Melbourne.   I remember enjoying a special birthday there some years ago with the price of one meal being deducted from our bill.
I'll be back to Il Divo.   We put our names down to join the Birthday Club and even without the Birthday reduction dining with a group of friends,  a sea view, sometimes a view of the huge cruise ships at Station Pier and a very edible  meal for $10, appeals.  The wine at $6.00 per glass is priced about right.
Since I last ate there only about 10 days ago there appears to be a change in the opening hours with the place closed at the beginning of the week.
Opening Hours:-
At the moment they are advertising Thursday through to Saturday 5.00pm until late
Sunday 11.30am until Late.
Yet they were  open last Monday 22nd February  – ring and check.
Where:-
Il Divo
49 Beach Street
Port Melbourne
PHONE 9646 1101
Getting There:
Tram 109 to Port Melbourne.  Get off at the terminus and walk left toward St Kilda
Or
Tram 1 To South Melbourne Beach.  Get off at the terminus and head towards Station Pier.