We lunched at this stylish restaurant in Carlisle Street recently and enjoyed the experience – its one we hope to repeat, soon.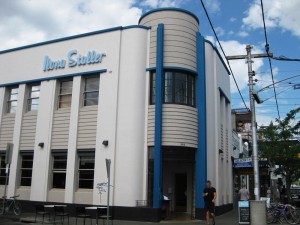 Ilona Staller is in a building which was once a bank then it became a Red Rooster outlet and now it has reinvented itself as a comfortable stylish restaurant.
The striking art deco building dominates the corner of Carlisle Street and Nelson Street.  The thing I like about the building is the entrance way.  It shouts art deco and on a rainy day it gives a chance to take off coats, shed umbrellas and generally adjust before you walk in.  We went on rainy day.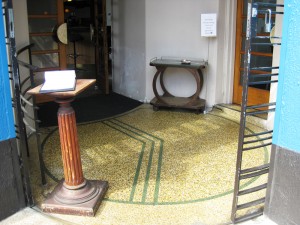 You leave the art deco feel in the porch and head into a sort of funky elegance.  The bar, immediately inside the door, has imitation zebra skin bar stools, a lime green counter and red fluorescent lighting.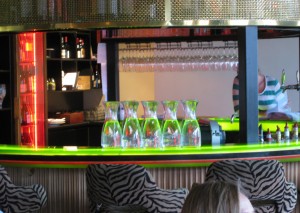 A waiter greeted us and we wriggled into a comfortable booth.
There is a lunch special – one dish from a limited menu and a glass of wine for $25.00.
We went for this.  When we ordered we showed a lack of imagination and we both ordered Roast Pork Belly with Waldorf Salad and Calvados jus.  This also comes in a sandwich.  It sounded delicious and it was but as I write this I wonder why we didn't order two different dishes as a comparison.  So this can hardly be a food review.  However we loved the pork and next time I would go for the sandwich because the bread would soak up the juices.  As it was I had to leave some of that delicious flavour on my plate.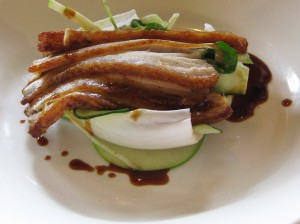 Roast Pork Belly with Waldorf Salad and Calvados jus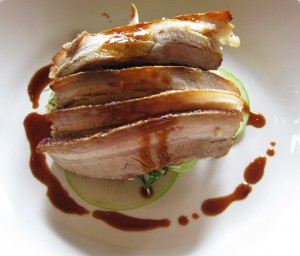 There were a a number of people there for lunch but the place absorbs the sound.  That is a good reason to return.  What busy place can you go to and still hear what the person across the table is saying?  The other pleasure was the charming waiter who was attentive but not the least intrusive.
The wine that came with the meal was good drinking and we ordered a second glass.
Was it good value?  You always expect a special to be reasonable value and we did save a few dollars ordering this way. They do have a full menu and an extensive wine list, many by the glass.
If you are in the area give this place a try.  I would go so far as to say travel to Balaclava to do so.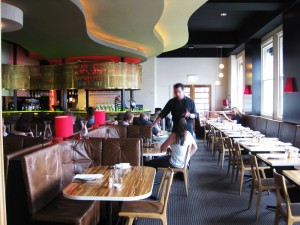 A lot seems to have been made of Ilona Staller's connection to Cicciolina on Acland Street.  They have the same owners but in my view they both have their own presence and unless you knew you wouldn't pick the relationship.
It is clever naming.  Ilona Staller is an Hungarian-born Italian porn star who is generally known by her stage name Cicciolina.
Where:-
Ilona Staller,
282-284 Carlisle Street, Balaclava
Phone:-
9534 0488
Getting there:-
Train: It is opposite the Balaclava Station (Sandringham Line)
Tram: 16, or 3 . The stop is outside
Open:-
Monday to Saturday noon-1am;
Sunday noon-11pm
Lunch special $25.00
They are advertising kid's meals for $10.

Web:- www.ilonastaller.com.au