The National Gallery of Victoria can be an amazing place.  It is possible at times to walk into the main big gallery and be blown away by what is no display  That happened to me over Easter.  I drifted in and was stunned by the display in the Federation Gallery.  This display is by Sydney artist Jamie North, It is called Rock Melt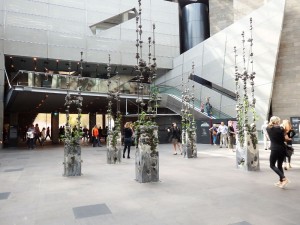 These six grey rock columns are entwined with native plants.  They are made from recycled slag which is a bi-product from smelting ore so the title of the exhibition Rock Melt does seem appropriate when you realise that.
Each column is five metres tall and they sit comfortably in  the gallery space which gives you an idea of just how immense the area is.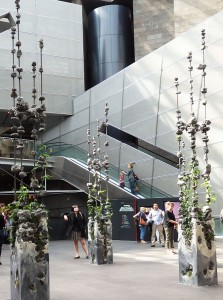 The plants growing in the sculptures are local plants. Jamie likes to combine plants with his sculptures.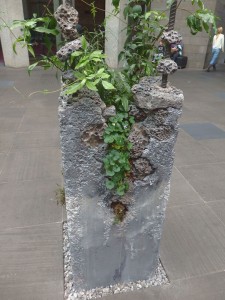 Here he has planted a local Melbourne vine called Wonga Wonga. When it flowers it has a cluster of creamy bell-shaped flowers.  It is hoped that these plants will continue to grow in  Federation Court and before the sculptures are taken away will delight everyone with the flowers.  Jamie North likes the way plants will grow in little cracks around the city and this has inspired his work.
The exhibition  is on until the 13th of July which gives time for  us to watch these plants grow and see when they do to change the look of the exhibition
This web site shows a picture of molten slag being tipped – looking at the picture you can see something of the process the rock went through to reach these pale grey columns – Art Daily
What:- Jamie North – Rock Melt -Now and  until July 15th
Where:- National Gallery of Victoria
St Kilda Road
Melbourne
Phone  8620 2222
Opening Hours:- Wednesday to Monday 10.00am to 5.00pm CLOSED TUESDAY