I went to this exhibition because photographs make up so much of our every day.  We snap everything.  A table we might buy, the cafe we're in, the food we're eating, our latest nail polish effect, our cat doing something silly and so on. We send these quick pics to our friends and family with a click of a button.  We can also take a picture, enhance it and add effects with Photo Shop.  It is wonderful how technology has advance!  I wanted to see what else could be done with a photograph.
Photographer, Jeff Wall, has been described in the publicity blurb as 'one of the most influential and outstanding contemporary photographers working today,' he has also been described as a 'photographic artist'.
Here are some of the photos that are on display at the Ian Potter Gallery courtesy of Google.
There is no photography allowed in the exhibition.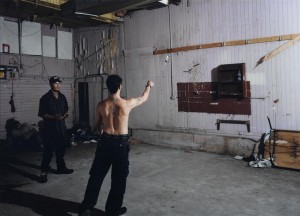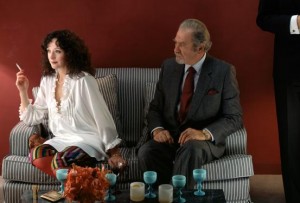 Most of these photos are presented as huge transparencies in a light box and this makes them wonderful.  Once you have seen these you will never feel quite the same about a photograph on paper again.
There is such realism that you believe you are actually part of the scene.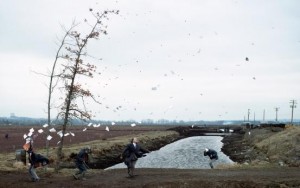 Sudden Gust of Wind (after Hokusai) 1993. – Hokusai is Japanese artist.
This one is an example.  It is enormous.  Walk towards it, then take another step and you believe that you can step into it and join the people and feel the wind dragging at your clothes.
The paper flying about looks as if you could pluck it from them air. I loved it and thought I would buy a postcard to remember it.  There is an A5 size reproduction but the effect isn't the same without the light box.  The photo is also on the brochure.
When you are there have a look at the hands of the figure in the bottom left.
The nails are beautifully painted with red polish. There is no face but the clothing makes the figure appear masculine.
Jeff Ward also like gunge  – a sort of underside of life.   This photo gives an example.  Every detail, every line of dirt in the soap, is clear.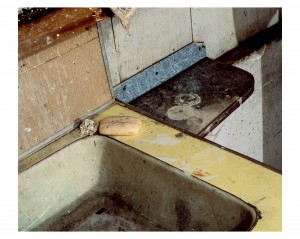 What:-
Jeff Wall photographs
Where:-
Ian Potter Gallery in Federation Square.
Cost: $15.00 – students and pensioners $12.00
With the purchase of your ticket you get a free entry to see Thomas Demand's Exhibition at the NGV in St Kilda Road.  He is a sculptor and photographer.
Time:-
Until March 17th 2013
Tuesday – Sunday 10.00am to 5.00pm
Closed Monday