The Ian Potter Center in Federation Square is a great way to spend a damp and misty winter's day.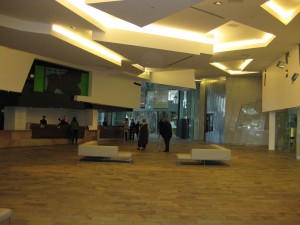 The Atrium Ian Potter Centre.
This wonderful space houses part of  NGV (National Gallery of Victoria) .  This Gallery shows only Australian Art – which, as far as I know, makes it unique in Australia.  Take one of the lifts to the galleries.
There are permanent exhibitions in NGV such as Indigenous Art and selections from the Australian Collection.  Then there are special exhibitions.  A year or so ago I saw one of Margaret Preston's work.
At the moment there is an exhibition of John Back's works.  The collection is wonderful, spanning works from all periods of his working life.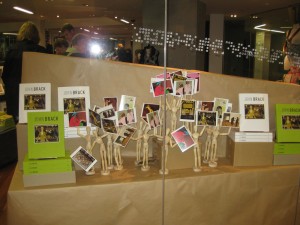 The NGV shop's John Brack display and you can buy postcards etc of his works and of other artists.
My favourite paintings are his suburban ones.  These were mainly painted in the late 1940s and 1950s and are painted in browns.  I'm not sure what that says about Australian Life at that time but it does conjure up a fascinating atmosphere when viewed all these years later.
These are two of my favourites.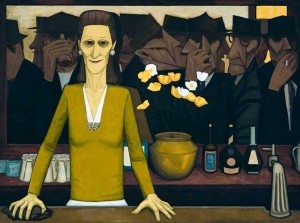 The ground floor of the Ian Potter Centre, the atrium, is a huge open space available for exhibitions, market-style  stalls and entertainment.  There are also permanent retail outlets selling exciting Australian craft work and design.
Something is always happening in the Atrium.