Sitting on a high ladder style stool feet propped on a bench while overlooking a car park doesn't sound an ideal place to have breakfast.  Strangely,  it is pretty good.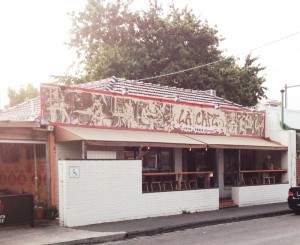 We shared the veranda space with two spaniels who relaxed at our feet and did not beg for tit bits or fuss about.  They were as relaxed as we were. The early morning summer air drifted in and the activity in the car park did not disturb us and we had passersby to observe.
This is an Israeli cafe so there is an emphasis towards that style of food on the menu.  If you go for a really different experience, you won't get it.  Most of the food is just a little different from standard fare.  I have an idea that the menu has changed since they first opened and has become more Australian (local).
We chose:-
Avocado Delight: A slice of toasted bread w/guacamole, sautéed mushrooms, sun dried tomatoes, fetta and chorizo, served with an Israel salad
This was described as very good by my friend who had it.  The chorizo giving it flavour and the salad a freshness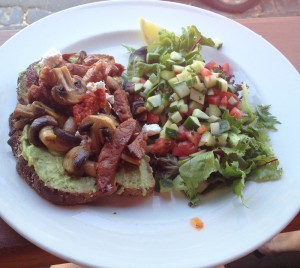 The Big: Eggs of your choice, toasted bread, served with grilled Portobell0 mushrooms, tomato, bacon  chorizo and spinach.
Good choices of bread here, sourdough, rye, white, multigrain, Turkish, raisin, bagel
Eggs could be , omelet, scrambled. poached or fried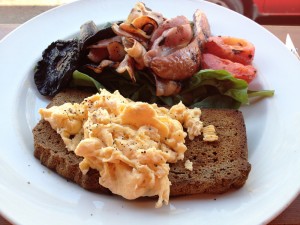 Beautiful large mushrooms that looked delicious but for some reason were tasteless but the rest of the dish was fine.  It was surprising to find the spinach raw and the tomatoes cooked.  They were delicious and it is a while since I had cooked tomatoes, must do it myself more often and a chorizo sausage gave the dish a tang.  It all worked well but perhaps could have been improved by the freshness of a serving of Israel salad.  Ah, but plates only hold so much!
An Israel salad is a great addition to breakfast.  It is clean, fresh and it cuts any suggestion of fat or grease.  Made from finely diced cucumber, tomato and parsley, sometimes onion is added.  It is often served with lemon as it is at La Cafe.
The coffee was particularly good here.
A disconcerting moment came at the end of the meal.  The waiter took the  bill and our money.  After a while she came back and removed our cups and cleared the table.  We were ready to go when we realized that we didn't have the change from the bill.  We wonder how many people got caught out this way. With the  bill and the payment taken and the table cleared, subconsciously you think that everything is over and leave before you receive the change.  It may not be a problem if you paid by credit card but still you don't want to find you have left it behind.  We had to ask for the change.
Where:- La Cafe
28 Nelson Street
Balaclava
Phone:-    9537 3093
Open:-     Monday to Saturday 7.30am  to 5.00pm
Sunday 8.00am to 5.00pm
Getting there:- Trams 3 & 12 from the CBD- to Balaclava Station
Train Sandringham Line to Balaclava Station