When a cafe has been operating for a few years it may seem a waste of time reviewing it – others have done so before – but I believe Melbourne Places needs to visit and talk about the old favourites.  Not everyone knows these places.  Not every well known cafe lives up to its original high standard.
Las Chicas has been its position, by the Balaclava train station, for a number of years.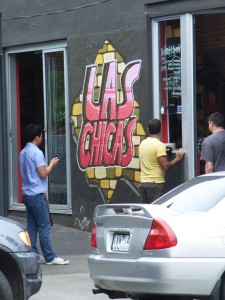 Las Chicas has expended over the years and now occupies two narrow spaces with large doorways between and a courtyard at the rear.  The courtyard is roomy and you can catch the rumble of trains at Balaclava Station – adds to the atmosphere.
Carlisle Street is busy in the weekends.  It has become a Melbourne place 'to be'.  Las Chicas is one of the places to eat.
We went early on Sunday morning about 9.15am.   By mid morning there is often a queue waiting for seats and even at 9.15am the place was filling up.    We wanted to sit in the courtyard but the only seats available were next a heavy smoker which is probably why they were available.
We grabbed two free seats at the window bar.  Not quiet as good as the courtyard but in my opinion a pretty good place to be.
My flat white coffee and my friend's lemon tea came quickly.
The coffee was good but it could have been hotter.  I like to begin the day with a hot coffee – no complaints about the strength and flavour.  No criticism of the lemon tea.
The menu at Las Chicas is extensive – you could even say too extensive – spoilt for choice, something like that.  There are daily specials in the front, a blackboard with more specials and a large vegetarian section before we get to the main section.
My choice was the Bikini Blowout Benedict (BBB), Avocado, bacon, poached egg , bagel toasted and hollandaise sauce – $17.50.  This is a great breakfast if you're hungry.  I love Eggs Benedict but I always hate the way hollandaise looks poured over something – too yellow perhaps – but the taste was delicious and the bacon crispy – no grease.  I would order this again if I was hungry.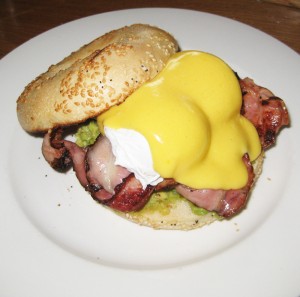 Bikini Blowout Benedict (BBB)
My friend had a special; sourdough multi grain toast, avocado, balsamic roasted tomatoes, crumbled feta and she added smoked salmon – $14.50, salmon extra.  All was pronounced delicious except the smoked salmon.  She didn't think the dish needed this and she didn't think it was very good smoked salmon.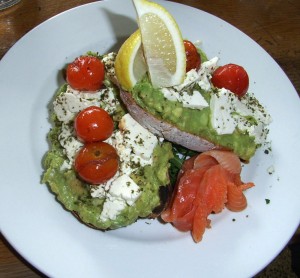 A Special Breakfast
I'm told the Baked Bean Brekky in the vegetarian section is delicious and I will try this next time.  It sounds good; house baked pumpkin and polenta loaf toasted, topped with baked beans, spinach and a poached egg.
A work colleague gave a warning about the muffins.  You can see them in a display case as you walk in.  They look great but when you order the wait-staff heat them.  She says it makes them impossible to eat.  Her raspberry and apple muffin crumbled so much she had to eat it with a spoon. They served it with butter but it was impossible to spread the crumbs.  Her advice ask them not to heat it and it will be great.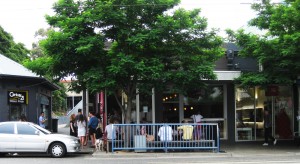 Las Chicas Cafe Carlisle Street, Balaclava
The cafe has a window that opens to the rail ramp and there is a take away window also on the ramp side.
Where :-
Las Chicas
203 Carlisle Street
Balaclava
It is on the corner of Carlisle Street and the walk-way to platform 1 at the Balaclava train station.
Phone 9531 3699
Opening times:-
7am to 5pm
Breakfast is served all day.
Trams:-
No 3 and 16 from the CBD stop outside Las Chicas
No 78/79 from Richmond stop at the corner of Carlisle and Chapel Streets.
Trains:-
The Sandringham line to Balaclava Station.