I have been overseas for a couple of weeks and while I was away I remembered how I fell in love with Melbourne.
My first love was "Little Italy"on Lygon Street – that small strip of Lygon Street between Gratton Street and Argyle Place North that runs alongside Argyle Square .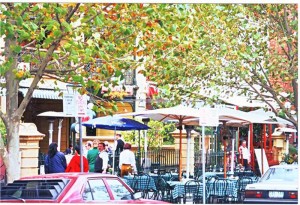 Italian restaurant Lygon Street lunch time 1997
It was Easter twelve years ago and I was on my first trip here.  It was a clear, sharp and windless evening.  Lygon Street was alive in a way that was a complete contrast to my home town.  It was my first experience of spruikers and back then I found them fun. We chose a restaurant and were encouraged to sit outside.  I was dubious.  It was really chilly.  Then I discovered the magic of the gas heater.  We sat under the trees and were so warm I removed my jacket.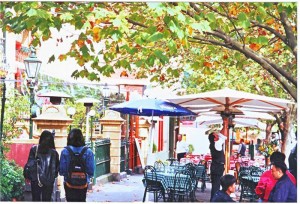 The check table clothes were a feature I liked in 1997
The crowds swarmed by, the atmosphere was convivial, the house red was soft and mellow – there was nowhere else in the world I wanted  to be but there at a table on the sidewalk in Lygon Street eating Italian food.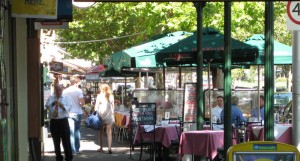 Lunch time 2010
Now I live here I go only when I have guests.  I take them so they can experience the magic I once felt.  Not everyone feels the magic.  Not everyone likes the spruikers.  Not everyone thinks the food is great.  Not everyone enjoys the evening crowds but most people like the atmosphere.  The experience is best explored in the evening.  During the day it is quieter and over those twelve years the other side of the street, the west side,  has flourished and that is where you find the lunch time crowds.
Lunch time 2010
Time has seen changes in the restaurants.  My original favourite Il Primo has gone.  It was at Il Primo that I first ate gnocchi and so another love affair began.
Now I choose Il Gusto.  I like their pasta and they have a good web site with their full menu.  This allows you to read the menu in advance; to think about what to eat,  to discuss it with your fellow diners,  to change your mind a couple of times and to get your mouth watering.
The Lygon Street experience now seems to have diminished a little from what it was or perhaps it is just that I am used to it.    Check it out it every now and again.  It is so much part of Melbourne's heritage.  It is to be hoped that it all just doesn't drift away.
Information:-
Most of the restaurants along the strip are open from 12 noon to 12 midnight.  These include;
Il Gusto Restaurant– 256 Lygon Street – Phone 9663 6396
Villa Romana Trattoria – 252 Lygon Street –Phone 9650 7990
La Spaghettata  Restaurant  – 238 Lygon Street – Phone 9663 6102
Getting there:-
The easiest  way to get there is  tram  to Melbourne University and walk along Gratton Street.  The trams that go there include; 3, 5, 6, 16, 64,67,72.
There parking in the area but most of it is for one hour only.