The Local Pub is a sports pub and on the evening we were there they had the Rugby world cup on every screen.   There are a lot of screens.  This is a plus if you are there to watch sport.  We had a smallish screen on the wall beside our table.  The Rugby Game was not a great game to watch.  It was a walk-over by Wales who were playing Namibia. 81 to 7 is definitely a walk-over.  So our personal screen wasn't quite as important as it might have been for a different game. I can only speak of one dish on the menu.  It is an amazing dish and well worth a blog posting on its own.  Every now and again you find your mouth dropping open and your eyes popping when your dinner arrives. This happened at the Local Pub.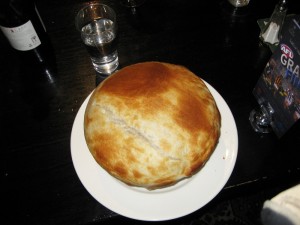 The popularity of  lamb shanks inspired us to try a Lamb Shank Pie. There was nothing individualistic about our group and we all ordered the same.  A brief discussion and we thought the meat from the shank should be delicious in a pie.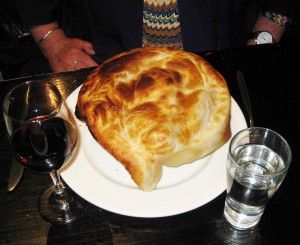 What arrived was a dinner in a pie.  It was all there the shank, mashed potatoes, carrots and peas.  It was rather fun opening this huge dish and letting out the steam.  It tasted good too. The meat on the shank was tender and tasty and the gravy soaked, deliciously into the mashed potatoes.  The pastry was a nice touch. Priced at $21.00.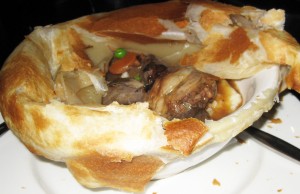 The Local Pub Bay Street, Port Melbourne 22-24 Bay Street (the Beach end) Phone:- 9810 0076 Opening hours:- Daily from 11am