The Hotel Nest in Albert Park is an ideal place for Sunday Lunch.  I'm not talking brunch here.  This is a place for lunch.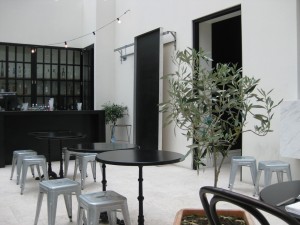 It's an old Pub on the corner of Victoria and Page Streets that like so many pubs in the area has taken on a new lease of life.  It has taken on a new name too.  It is no longer the Red Eagle but the Hotel Nest with a rather charming logo. It's on their glasses.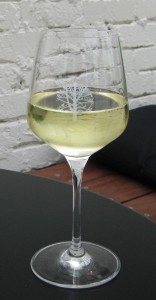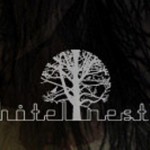 It's close to the beach and on a calm morning you can take a walk along the beach, breath in the ozone, watch the locals with their dogs and then wander along Victoria Street to Hotel Nest for lunch.
When you arrive head for the Greenhouse room although somehow it is more a garden room with garden paraphernalia hanging from the walls and pots of flourishing Olive trees.
The room is stunning and worth the trip just to see it.  It's all white and light with a glass roof that retracts.  Yes like the Telstra Dome and now Wimbledon.  Push a button and some of the glass roof move aside – very classy.  The whole make-over is stylish and sophisticated.  I loved it.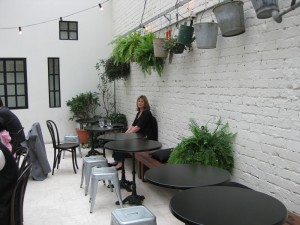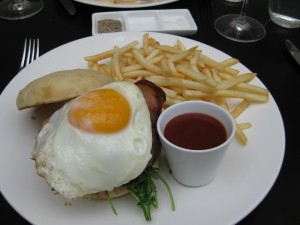 The food is described as Modern Australian and priced about right for this type of venue.  We ate what is described on the menu as Nest Wagyu Beef Burger with blue cheese and fries advertised as a Nest classic.  The Wagyu beef was divine but the blue cheese was missing and the chips were McDonald's.  The egg was a nice touch a reminder that's it's Aussie cuisine.   For $20 it would have been nice to have had hand cut fries and enough blue cheese to get the flavour.
The wine was good.  A Glass of  Tarrawarra Estate Chardonnay glass at $9.00 was good drinking.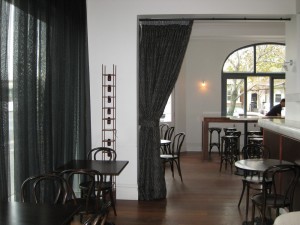 Hotel Nest is a lovely old traditional building and some of the bygone ambiance is retained in the main dining room, the bar and the function rooms.  But it's the Greenhouse that gob smacks.  As I said it is worth the trip just to look at it.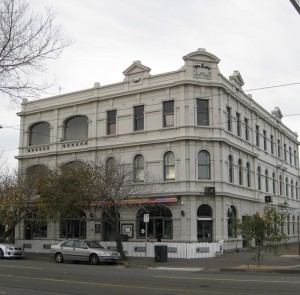 Take the Number 1 tram from the city going to South Melbourne and either stay on until you reach the beach or get off at the stop 31, the stop after Richardson Street.  Hotel Nest is on the corner you have just past.