Zum Zum is the middle of the cafes in the interesting North Carlton shopping area.  This means that on a nice day you can sit outside and be part of the atmosphere.    I find this atmosphere unique to Carlton North.  It is one of Melbourne's places that I never tire of visiting.   The food at Zum Zum is some of the best Middle Eastern food I have had.  I would go there even if the locality wasn't so special.

Zum Zum serves Middle Eastern food and more particularly Lebanese.  It is a few weeks since I have had Lebanese food and after lunch at Zum Zum I won't leave it so long between indulging again.
We arrived about noon for lunch and grabbed a table that was outside and partly shaded, sipped a wine while we thought of food.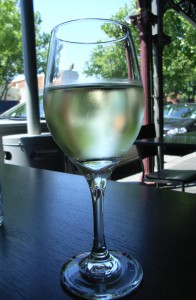 The wine was a generous pour.
There is a special lunch menu with very reasonable prices and we chose from that. I photographed it.  I hope you are able to check it out from this image.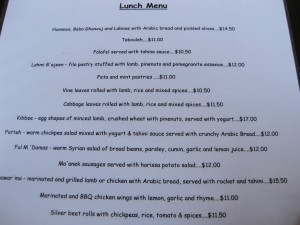 We chose Silver beet rolls with chickpeas, rice, tomatoes and spices to share.  These are something like dolmates but more flavoursome than the ones I am used to.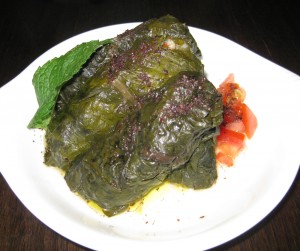 Silver beet rolls with chickpeas, rice, tomato and spices
For mains we made an individual selection.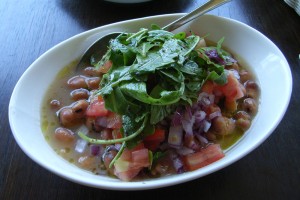 Fatteh – warm chickpea salad mixed with yogurt & tahini sauce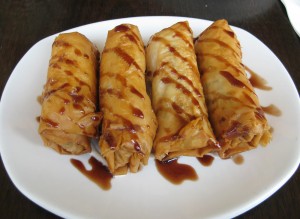 Lahmi B ajeen – filo pastry stuffed with lamb pinenuts and pomegranate essence
Both of us agreed that we liked our selection and we would order them again.  Perhaps that is unlikely as the menu is so interesting at another lunch we would probably try something different.
Zum Zum is definitely a place to return for lunch although too much of this delicious Lebanese influenced food and you could start to have withdrawal symptoms. And it is great value for money.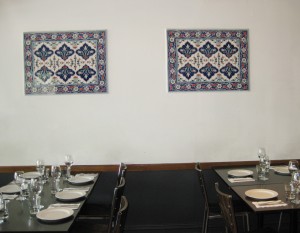 Inside dining
I haven't tried dinner at Zum Zum but someone may be able to comment on that.
Where:-
Cafe Zum Zum
645 Rathdowne St
Carlton North 3054 VIC
Phone 9348 0455
Getting there:-
Tram 96 to East Brunswick.
It runs along Nicholson Street. Get off at Newry Road and walk left, through to Rathdowne Street.
Parking:-
There is two hour parking in the surrounding streets.