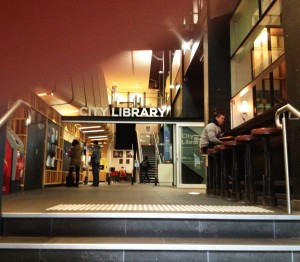 Libraries hold a magic for me.  As a child I found them a treasure trove, a sort of Aladdin's cave, I could wander around taking books from the shelves browsing then putting them back and grabbing another.  I could read magazines and when I became a news-junky, the newspapers.
I had lived in Melbourne for sometime before I chanced upon Melbourne City Library.  It is sort of tucked away in the CAE building in Flinders Lane and not easy to see.  I've walked past many times and missed it.  What a delight when one day I discover it and an even bigger delight to find I could join. You don't have to live in the CBD to do so. And like all libraries you can enter this wonderful space, spend time there and browse without being a member.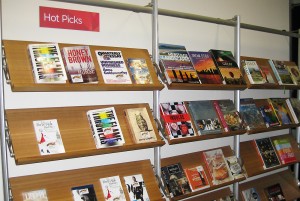 One of my very special libraries is the Wellington City Library in New Zealand. It is a wonderful place that has welcomed me for hours at a time. When money was a scarce commodity in my life I felt rich when I was in that building and so much was available to me.  Melbourne city Library comes in as a close second.
I hope this video gives you the feel of the Melbourne City Library.  It also shows you the side of the Journal Canteen – the coffee shop in the same building.
The Melbourne City Council  has written their 'Vision'  for the library as this, "The  library is Melbourne's gateway to your past, present and future".  I think they fulfill it.
This is the children's area.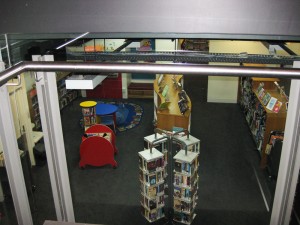 You don't have to go into the library to join.  You can join on line and then pick up your card when you go in there. Here's the link. 
Amazingly you can have 50 items on loan at one time.  I have never needed to have that many books at one time but it is comforting to know that in the depth of an extra cold winter or in the middle of a large research project you can do that.   There are a few limitations but they are spelt out clearly on the web site.
Where
Melbourne City Library
Address: 253 Flinders Lane, Melbourne VIC 3000
Between Swanston and Elizabeth Streets CBD
Phone:(03) 9658 950
Opening Hours: -  Monday to Thursday 8.00am to 8.00pm
Friday           8.00am to 6.00pm
Saturday      10.00am to 5.00pm
Sunday          12.00noon 50 5.00pm
Web site: http://www.melbourne.vic.gov.au/MelbourneLibraryService/Pages/MelbourneLibraryService.aspx