The yet to be named baby elephant is a Star.  Crowds are surging through the gates of the Melbourne Zoo daily and queuing to get a glimpse of this miniature elephant.   Yes that is what she looks like a tiny miniature of the grown-ups.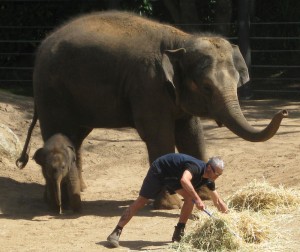 I couldn't resist the urge to get my first look at a baby elephant and it was an amazing experience.
We arrived a little after 11.00 am for the 11.00 to 12.00 viewing   and spent time in the queue.  This gave us a chance to absorb that ambience of the plantings around the Elephant Enclosure.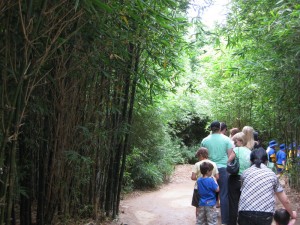 These are Thai elephants and they live in a Thai-like atmosphere surrounded by stands of bamboo and Thai artifacts.  Notices are written in Thai and entrance ways to the enclosure are carved and painted as if we were in Thailand.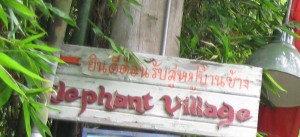 The line snaked its way through shady stands of bamboo – it is worth going for the bamboo – beautiful.

Before I got there I was wondering why we were planning to give this young lady a Thai name.   Why not an Australian name?  She was born here.  She is our elephant.
Four names have been selected for the public to choose from. They are:-
Leelawadee (which means frangipani),
Mali (jasmine),
Ma Li Wan (climbing jasmine),
Su Ma Li (osmanthus)
Iyares (which means both elephant and orchid and is pronounced Ai ya
The names are not only in keeping with her Thai heritage but also family lineage – her relatives have names of Thai flowers.
I did see the point of the names and I voted for Jasmine but I still think we could have added an Australian flower to the lineage – Wattle for example.
She was born on the 16th of Jan making her about 6 weeks old now and growing fast.  She appears to be oblivious of her fame and enjoys herself in her enclosure with her mother and her aunt.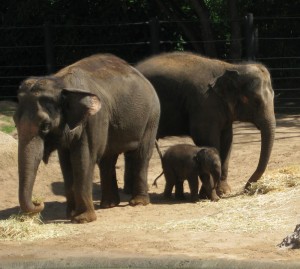 If she feels shy she can hide behind the bulk of these as she did when our group entered.   But in a minute she ambled out and began to toss some hay about.  It was a short but somehow a remarkable and memorable experience.  All young have charm and she is particularly charming and cute. She put her trunk up like a 'real' elephant and it was a joy to see.
At the moment there are two viewing times 11.00am and 2.30pm.  The queues begin to form about 15 minutes before viewing begins.  If you think ahead you will bring a picnic and eat it at the elephant enclosure where there are seats and shade.  That way you will be in the front of the queue and get your four minutes of staring and camera-clicking time without too much wait.  This will give you more time to see the rest of the Melbourne Zoo.
Zoo opening times:-
Daily 9.00 to 5.00pm
Viewings:-
Weekdays  11.00 am to Noon – 2.30 to 3.30
Weekends – 10.30 to Noon  – 2.30 to 3.30
Getting There:-
Tram –   No 55  runs from West Coburg through William Street the city to the Domain Interchange and stops at the Zoo
Train-    Upfield Line from Flinders Street to the Melbourne Zoo Station