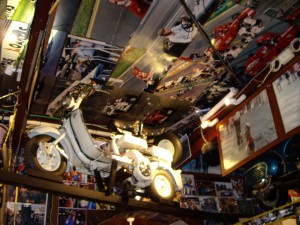 It's in your face Motorbikes.
The décor at La Porchetta in Charlton North is stunning – gob-smacking if you are seeing it for the first time.
Full sized motorbikes hang from the ceiling that is already covered with motorbike posters.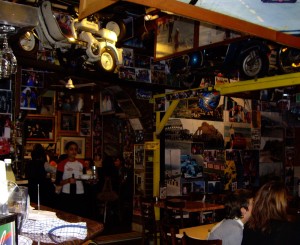 It's worth a trip to Carlton North to experience it. The pizzas are at the top of the La Porchetta range and the glasses of wine are generous and then of course there are the motor bikes. You can sit outside but who would want to when they can sit with the bikes.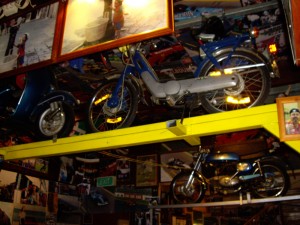 To get there take tram 96 to East Brunswick. It runs along Nicholson Street. Get off at Curtain Street and walk left, through to Rathdowne Street.
There's interesting shopping along the strip at Carlton North North. It's worth checking it out while you're there.