The Myer's Christmas window tradition in Melbourne is in its 55th year.   These window animations are always breathtaking in their skill and imagination.    As I viewed them I wonder how they did it?  How they kept the standard so high year after year?  I am glad they do.  The pleasure they to give locals and tourists can't be measured.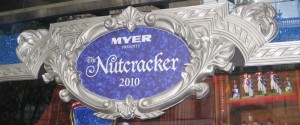 This year Myer's have gone back to the past for their windows by selecting the Nutcracker. The Nutcracker goes back to 1957 and I believe it was their second window in this amazing series or imaginative ideas.
This is the first time they have repeated a theme.    And when I look at the crowds lining up every day this year I can't help but wonder if any in the crowd saw the first Nutcracker and are here with grand children for the 2010 version.
This time the people behind the scenes, brilliant artists, animators and talented crafts -people, have created a magical fair story – the Nutcracker Suite ( originally a ballet by Tchaikovsky) is a fairy story and like all good fairy stories has magic and a happy ending.
The story is narrated by Father Christmas.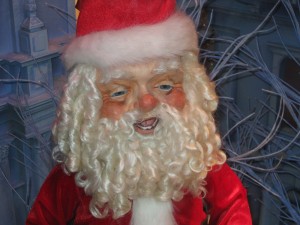 The first window is called The Christmas Tree.  This is the Stahlbaum's Christmas party on Christmas Eve..  Clara's Godfather gives her a Nutcracker as a present.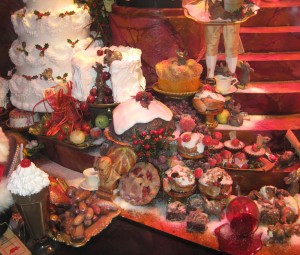 Christmas party food at the Stahlbaum's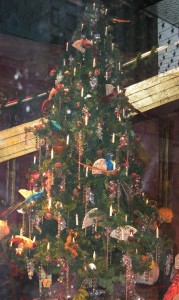 The Stahlbaum's Christmas tree
Clara falls asleep under the Christmas Tree with her Nutcracker and the magic begins – at midnight.  Midnight is a good time for magic!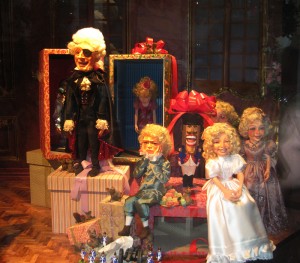 Godfather Drosselmeyer and Clara with the Nutcracker in the background.
The second window is The Battle – where the Mouse King and his army fights the Nutcracker and his toy army.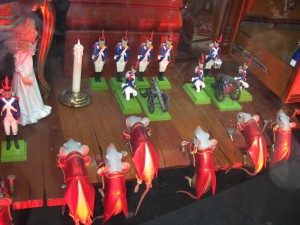 The Mouse army facing off the Nutcracker's toy army
Clara kisses the Nutcracker and as in all good fairy tales he turns into a handsome prince and they take a journey.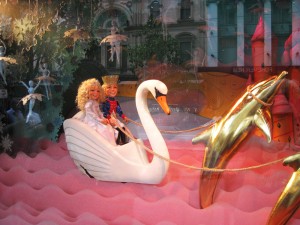 Clara and her handsome prince in a swan coach being pulled by golden dolphins
They arrive at the Land of sweets – the fourth window. They even have jubes and of course entertainment for the royal pair.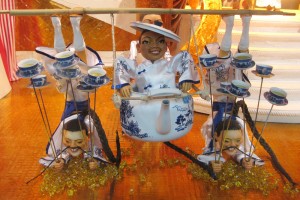 Chinese acrobats entertain by spinning cups of tea on sticks.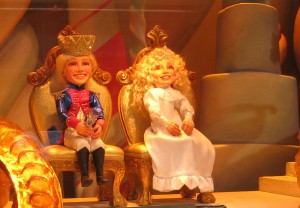 Clara and her handsome prince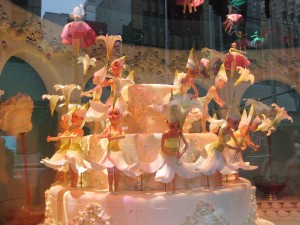 The imaginative and animated wedding cake
At the Conclusion – the final window. Clara and her prince dance and live happily ever after.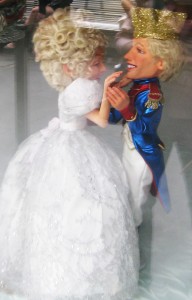 Father Christmas tells the story and there is a brief, written outline describing what is happening in each window.   There is so much happening it is very easy to miss something in the crowd.   The animations are worth seeing even if fairy tales aren't your thing.  The animations are brilliant.
Plan to go either early in the morning or later in the evening when the stores are shut and the crowds are less.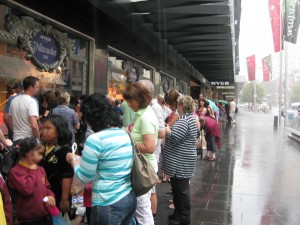 The morning queue at Meyer's Christmas windows – the rain doesn't keep people away.

Where:- Myer's Christmas windows – Bourke Street, Melbourne CBD
Time:- The windows are in place until 5:00pm Thursday 6th January 2011