Christmas tradition is always good and this year the Melbourne tradition of the  Myer  Christmas window display is a winner – one of the best I've seen – perhaps even the best.  It is the story from the book "Olivia Helps Santa" by Ian Falconer.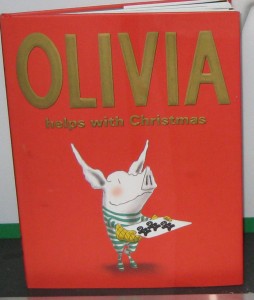 If you have any young children in your family you'll know that the heroine of Ian Falconer's story is a pig, her family and the family dog.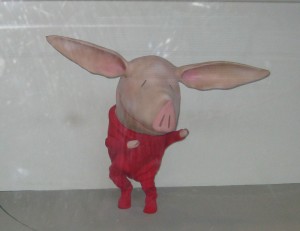 Not having young children in my life I wasn't familiar with the cute and enthusiastic Olivia but I immediately fell in love with her.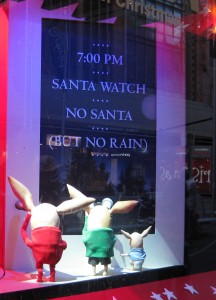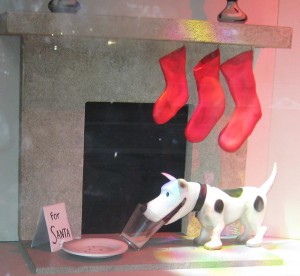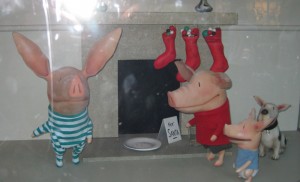 The windows are the book come to life and it is joy to view with or without children to accompany you.
You will come away smiling and feeling that all is good with the world.  Olivia is endearing and the story is narrated by Dame Edna Everage which adds some local input to the charm of it all.
I thought Olivia and her family were so lovable that I found myself in the local bookshop browsing through the Olivia books – there's a series – and wishing I had an excuse to buy a copy.  I thought afterward that I didn't need an excuse I could just buy a copy for my own pleasure.  I will do that.
This animated, energetic pig who is full of ideas, raises grins and chuckles and enthusiasm  from the crowd and the night I was there a sort of fellowship was created among us as we journeyed through Olivia's Christmas.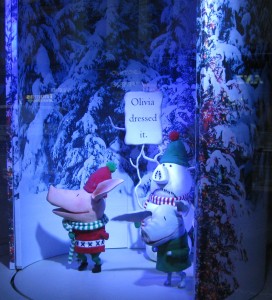 I saw the show in the early evening, after the store closed and the crowd was manageable especially with the ropes controlling the direction viewers need to take.
Useful Information
Myer's Christmas windows in Bourke Street, Melbourne"s  CBD are there until the 4th of January.
They operate from 7.30am until  1am – I have yet to see them in the dark but I am planning to.  The illuminations should be even more striking and beautiful.