On a recent Monday the beach from Elwood to Port Melbourne  was crowded, the roads were hot and the temperature was 37 degrees .  And if the waiter was to believed, 50 degrees inside the section of the Nautical Restaurant at 3 Station Pier that is alongside the water at Port Melbourne. The area was closed.
We arrived there for Locals' Day where the value is exceptional and we were told our desired spot near the water wasn't open.
"It's 50 degrees in  there.  We had to close it.  There is no way we can keep it cool."  This meant we had to sit in the middle of the large restaurant space.  To some extent this negates  going to dine on the water. But who could complain we were all finding it hard to cope with the heat.
3 Station Pier, or as the place seems to be called now, Nautical Restaurant has locals' night on Monday and Tuesday when they sever a special locals' menu. All dishes are 16.50 and include a glass of house wine.
This is the menu:-
Roast Pumpkin, Spinach and Ricotta Lasagne
Layers of fresh pasta, Roast Butternut Pumpkin, Baby Spinach and Nutmeg spiced
Ricotta Cheese. Topped with Napoli Sauce and Béchamel. Served with a Garden
Salad..
Homemade Chunky Beef N Burgundy Pie
Chunks of Tender slow cooked Beef, Onion, Carrot, Thyme, Rosemary and Red Wine Jus.Topped with a Golden Crust Pastry and Served with Beer Battered
Bad Boy Fries.
Chicken Parmigiana
Free Range Chicken Breast, Coated in Corn Crumbs, Parmesan and Herbs. Shallow
fried in Olive oil to golden brown. Topped with Napoli Sauce and Tasty Cheese.
Served with Garden Salad.
Fish & Chips
Snapper fillets in a Tempura Batter, Served with Rosemary Salted Bad Boy Fries
and our Homemade Tartare Sauce.
Our group has been twice so between us we have tried the full menu.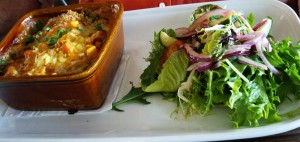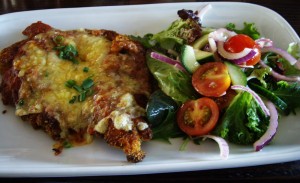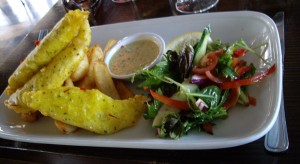 All is great.  The only criticism is that the pastry on the pie was limp. (and I don't have a photo of this)  This is a common complaint from dinners. Crisp golden pastry appears to be something that is difficult to achieve in a restaurant kitchen.
The included wine is very drinkable and the service has been excellent on any night that we have been there. We will be back.  I am hoping that the area by the water is open next time.  Half the joy of being in such a wonderful location is to sit by the water.
When we sat in the centre of the restaurant there was some quirk of mirrors and I was able to watch the vehicles being loaded onto the Spirit of Tasmania.
However I turned and twisted I was unable to actually view them in reality.  The whole event had to be watched in the mirror.  I wondered if it could be nice moment in a crime novel.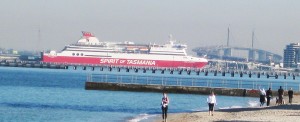 Where:- 3 Station Pier
3 Waterfront Place
Port Melbourne
Phone 9646 6299
Locals Day:- Monday and Tuesday
Open:- 7 days a week, lunch, dinner and late.
You can check their full menu on their web site
http://www.3stationpier.com/