Souvenirs!  Mementos!  Gifts from Melbourne! Christmas presents for relatives and friends overseas?  Whatever we call them we all need to buy them at sometime.
There are clip on koalas, painted boomerangs,  cuddly Kangaroos with a Joey in the pouch,  cute wombats,  beautifully painted didgeridoos – difficult to travel with……….
Great souvenirs but once you have done that what next?
Try the shop at the National Gallery of Victoria.  There you can find something that represents Australia but is a little different.  For example there are these Husque  bowls made from the shell or husk of the macadamia nut.  The shape is the shape of the nut. Very Australian and beautiful.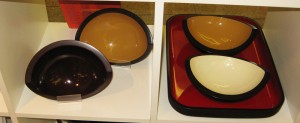 Husque web site http://husque.com/
The shop at the NGV flows off to the left of the entrance in auditorium of the Gallery on St Kilda Road.
This video may give you the vibe of the shop.

At this moment with Monet's Garden Exhibition coming to an end  you to have squeeze your way past Monet souvenirs and a very French ambiance to get to the  Australian products some designed and made exclusively for the National Gallery.
This homeware is made exclusively for the NGV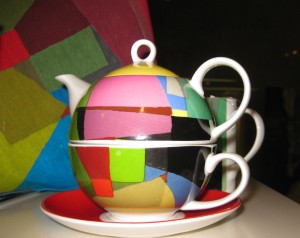 The teapot is priced at $49.95.
There are jigsaw puzzles packed in a flat tin priced at $14.95.  They are exclusive to the gallery.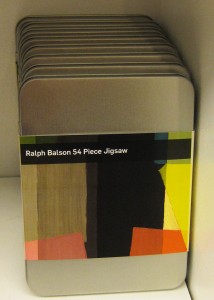 The NGV have another slightly smaller shop in Federation Square below the Ian Potter Gallery.
Check out their books about Melbourne.
This is a recent publication.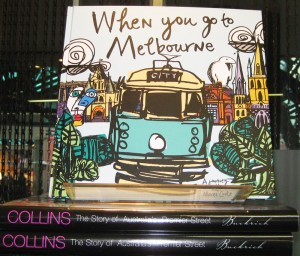 There is a whole shelf on Melbourne books.
Something that is exclusively Melbourne are the Salus body products. http://www.salusbody.com.au/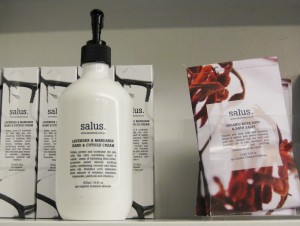 This cushion is a great memory of the local train network.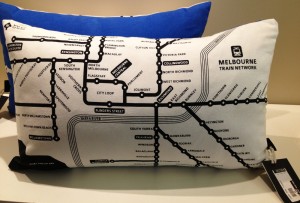 The shop in Federation Square also has the Husque pottery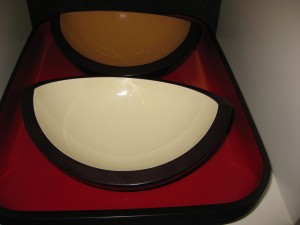 The shells  from the macadamia nut are milled into fine particles and melded with polymer, then shaped by designer Marc Harrison into these beautiful objects.
One reason they differ from pottery is the weight.  They are surprisingly light as well as being beautiful. Test the weight when you are looking at them.
Where:-      National Gallery of Victoria
180 St Kilda Road CBD
Opening Times:-    CLOSED TUESDAYS
Wednesday through to Tuesday 10.am to 5.00pm
Friday to 9.00
Telephone-
+61 3 8620 2243
NGV Shop at NGV Australia, Federation Square
Hours:
10am to 5pm daily
Telephone:-
+61 3 8662 1543