A Four Course Tasting menu for $35 with a glass of wine.  It sounds good value.  And it is!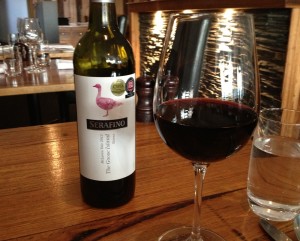 Noir is black  in French.  And the name Noir doesn't appeal to me as the name for a restaurant to visit on a cold, grey, winter's day in Melbourne.  I was apprehensive although it had a good serve from my friend who had been a couple of weeks before.
I'm not sure why the name Noir and I didn't ask.  The welcome and the temperature was warm as we step in from the chilly street and that was all we needed.   The name Noir does create the image of a late night venue where people are slumped in corners while viewing the world through dark glasses.  This Noir, although it is open at night has charm which is very pleasant in the clear cool light of an August day.
We settled into a table away from the door and began with our free glass of wine -  we drank more of it, later.  If you are having the special lunch you can dispense with the menu and all the studying and discussing.  The chef has decided a menu for you.  This is a common practice in small family French restaurants – you eat what the chef has cooked.  The menu at Noir changes weekly so you can check it out on their web site.  I like this idea.  It means that each visit is an gastronomical adventure.  I have now been twice to experience this.
We started with delicious bite sized vegetable tarts.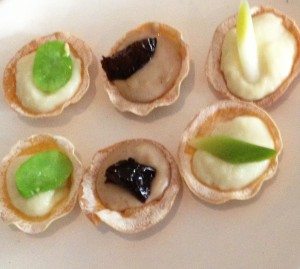 My favourite was the chestnut.  I love chestnuts and it seldom appears on a menu.  I have been lucky to have it both times I have been to Noir.  On each occasion the  delicate chestnut tarts have landed on our table.
Next there is a salad……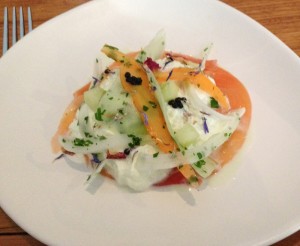 …followed by soup.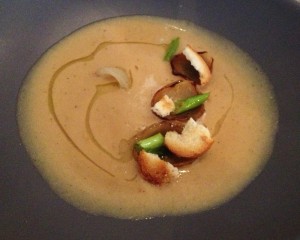 All this beautiful plating up.  You could believe you are on Master Chef.
Finally the main dish – Beautifully presented – delicious as well.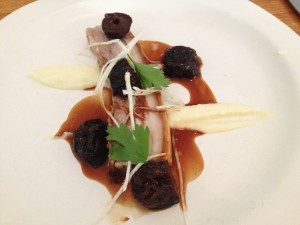 Try the four courses and see what your think – if you are worried the Chef may give you something you don't eat, check the menu on line before you go.
http://www.noirrestaurant.com.au/
……………………………………………………………………………..
The menu this week is:-
Prawn cocktail
Cuttlefish risotto, squid ink and crispy squid
Pumpkin veloute, pumpkin seeds and pickled onions
Roast pork belly with white beans and chorizo
………………………………………………………………………………
Where:-
Noir Restaurant
175 Swan Street
Richmond – this is near the Church Street corner.
Phone:- 9428 3585
Getting there:-
Train: Richmond Station is at the other end of Swan Street – a 5 minutes walk
Tram:  Number 70 goes past the Restaurant