January and February are great times for Op-shopping.  An item in our local newspaper quoted Kate Dear, General Manager of Red Cross in Victoria as saying, "Instead of throwing away your dud presents, why not re-gift them?"
I believe people are doing that and some businesses are also 'gifting' some of their excess stock to their favourite charity shops.
I have been visiting my favourite op shop during this January break.  I sometimes change my go-to op shop and at the moment it is the Sacred Heart Op Shop on Chapel Street.
It appears to be the favourite of a lot of people at the moment.  It is crowded with lunch time shoppers that make it as busy as a crowded market.
Merchandise is coming and going quickly.  Recently a friend found a brand new white bathroom with Hilton embroidered on the front.  She said there were hundreds there – perhaps an exaggeration but there weren't any when I went in a couple of days later.  She also bought a chandelier.  Some of the bits were missing when she saw it on the shelf..  When she enquired they produced every missing piece carefully wrapped and packed in a box.  A very well run shop.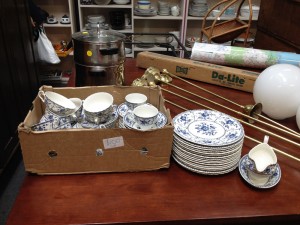 I saw this blue and white china dinner set and loved it.  When I went back the next day it had gone.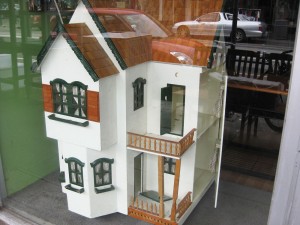 This dolls house was taking pride of place in the window when I went past yesterday.
You don't need to know the alphabet here.  The books are colour coded.
There is a continuous stream of new items flowing in here and it has an eclectic variety of things displayed in a way that you believe if you keep hunting you will discover a real treasure.
These pictures may give you some idea of what you are likely to find. I love the way each visit brings something new.  Pricing is good.  I now have a stand for my iPad so I can prop it up to read the news. $3.00.
Where:- Sacred Hear Op Shop
86/88 Chapel Street
Windsor 3182
Phone:- 9529 2455
Opening hours:- 10am-6pm Monday-Saturday
11am-6pm Sunday
Getting There:-
Train: Sandringham line to Windsor Station
Tram:  79 runs from Richmond the full length of Chapel Street to St Kilda East
6 to Glen Iris crossed Chapel Street at High Street
Sacred Heart Mission has a web site listing all their op shops, here
A year or so ago I wrote a post about this end of Chapel Street.  You can read it here.