It's a weekday and you have time on your hands and you're hungry?  One way to spend part of the day is eating in the Melba Room at The Langham Hotel, 1 Southgate Avenue, Southgate.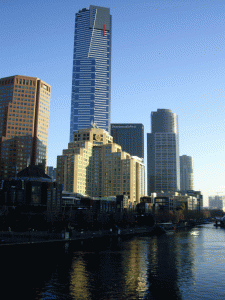 The Langham Hotel overlooking the Yarra River catching the last rays of the day's sun.
This hotel used to be called the Sheraton Towers.  It retains the sophistication, service, stunning entrance foyer and has an easy welcoming ambiance.
The Melba Room hosts a buffet luncheon every day.   It is at the top of the Grand curving staircase that has a centre fountain which takes your breath. The feast  is an extravaganza and it is well worth missing breakfast for.
I was there to celebrate a birthday.  We had booked a table by a window that looks onto the Yarra River.
At one stage clouds came over and the skies darkened,  "How cosy!  How wonderful,"   We exclaimed.    We gazed onto the river with the rain spotting it  and watched people along the Promenade scuttling for cover.   We relaxed in our comfortable chairs and wondered what to eat next.
I am the first to admit that there is something rather uncouth about a buffet.  My group behaved as if we hadn't eaten for a week.  Other groups did likewise.  There was a group celebrating the end of a year twelve commitment.  They were very dressed up and sophisticated but they couldn't resist the temptation to pile their plates and then go back for more and more.
This can be a leisurely feast.    Start with soup, three choices, then move to the seafood and fill your plate with oysters, prawns, crab and a choice of mayonnaise.  That just gets you started.  A couple of year twelves had several seafood courses before they progressed.  They mentioned this to me as I was wondering about more prawns.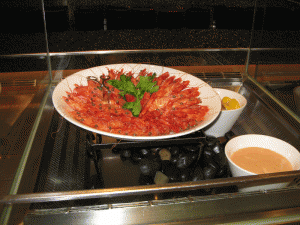 That is the beauty of it.  You can make your whole meal of prawns and oysters.  But why would you when there is every variety and mixture of food possible including Japanese?  A Japanese chef is there to help you make choices.
The desserts are interesting and the chef  knows you are going to want to try everything.  Mini, individual servings are produced of dozens of items.  Rather like mini works of art.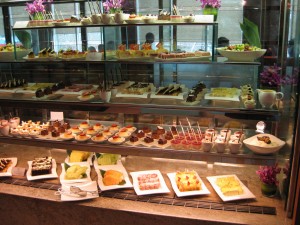 There was coffee and cheese and biscuits to finish.
The quality of the food?   It did vary a little but I loved the Japanese, the seafood and the curries and also the breads.
We plan to return for another celebration.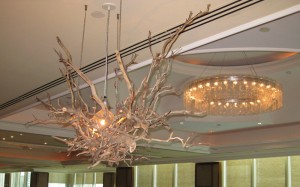 A very different light fitting hangs over the Japanese food.
Times:
The Melba Room starts serving luncheon at noon, the hot food is removed at 2.30 and the restaurant closes at 4.00 to prepare for dinner.
Costs:
Monday to Friday is $47.00 with a reduction for senior card holder of $4.00 and on Monday $8.00
Prices in the weekend are higher with no concessions:-
Saturday $69.00
Sunday $75.00
I understand that the prices will go up nearer Christmas when they provide a special Christmas menu.
It is suggested you book especially on Saturday and Sunday when it can be very busy.
Getting there:
The Melba Room, The Langham Hotel, 1 Southgate Avenue, Southgate  8696 8888.
You can enter from The Southbank Promenade along the river or it is just off St Kilda Road, in Southgate Avenue
Trams:
Any tram that goes to Federation Square or Flinders Street Station will get you there.
If you take your car there is valet parking.