Your're in Melbourne's CBD and you want time out – peace, time away from crowds and the concrete jungle and some tranquility?   How about the Botanical Gardens and in particular the Tropical House?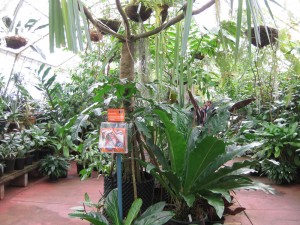 The Melbourne Botanical Gardens are at the edge of the CBD – walking distance if you are feeling energetic or a few minutes on a tram – see below.
As soon as you open the sliding doors and walk into this heated Glasshouse the atmosphere changes.  You may say of course it does but you don't expect the feeling of peace that comes with it.  I expected warmth but not the peace.  Warmth and peace may go together and perhaps that is what happens when you walk into that heated space.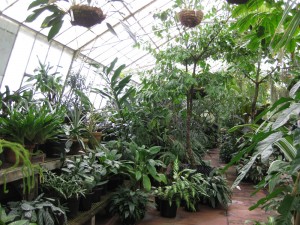 The air is heavy and slightly damp and perhaps that is why it is relaxing.  It quietens us.   We start to speak in soft voices almost whispers and we notice the people around us are doing the same.  We walk gently and we slow down.  There is a background hum of machinery that goes on and off.  You do notice this as it changes from on to off and then a bit later on again, but it is still peaceful.
As you enter there is a free pamphlet that directs your viewing of the plants. These are described as 'vital plants', that is vital-tropical plants that effect our every day quality of life,for example coffee, rubber and cocoa are identified by numbers.   The pamphlet gives you interesting information about each of them.  For example did you know that Attila the Hun demanded 3000 pounds of pepper in ransom for the City of Rome in the 5th Century.   It's probably not information your are ever going to need; just something to file away.
More useful, perhaps, is the information that a pineapple plant can produce a pineapple every year, for up to 50 years.  Now that plant is a good investment.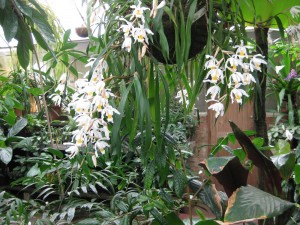 Paths wander through banks of greenery and overhead foliage.  There are splashes of  white flowers and every now and again a dash of a bright coloured flowers.   There are some strange and wonderful plants, too.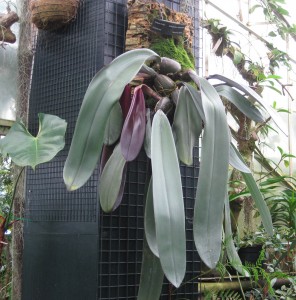 At the far end of the glasshouse water runs over rocks and splashes into a fish pond complete with fish.  There are benches to sit on while you absorb the atmosphere of water and the tropical forest.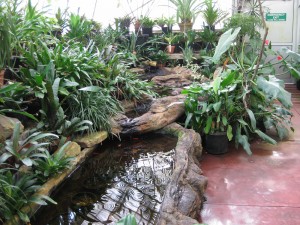 The Botanical Gardens are open from 7.30 to dusk every day of the year and the  Tropical House or Glasshouse as it is called on most of the signs around the gardens is open from 10am to 4pm.
How to get there:
Any tram from Federation Square that runs along St Kilda Road as far as the Domain Road Intersection, or if you want to get off in Domain Road and enter from there catch the No 8.
The Tropical glasshouse is at the Domain Road end of the gardens but you can wander into the gardens anywhere along St Kilda Road and you will find good signage leading you to the glasshouse.
Remember it is called the glasshouse – there's nothing about the tropical plants.