The Prahran Market is a foodies market.  It is all about food, preparing it, cooking it and eating it.  If that sounds like you The Prahran Market  is the place to explore.  Take your recipes and search out those unusual ingredients.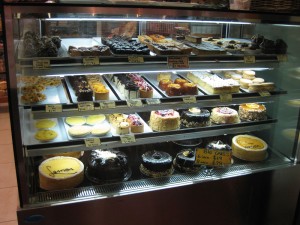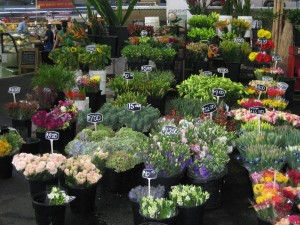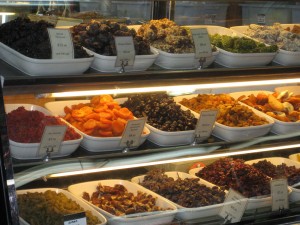 I think it is best on Saturday.  The produce seems to be fresher as if it was whisked from the soil or picked from the tree that very morning.   It is also the day when the market is flooded with locals doing their weekly shopping – a great ambiance that is unique to this market.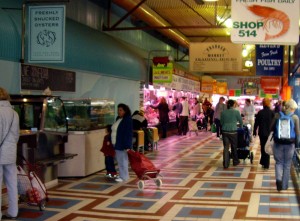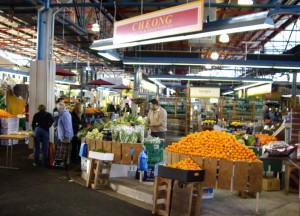 Shopping  before the Saturday crowds.
It's good to be there early on Saturday and miss some of the crowd but on the other hand from about 10.30 onwards the place is full of free nibbles – you can lunch your way around the stalls eating a bit here and there.  If you watch the shoppers you can see them sampling and snacking as they weave from stall to stall.
This is a produce market.    There is a hardware stall but it is about food: fruit and veg, meat fish and poultry, delicatessens, coffee, flowers and a very popular organic stall (Ripe the Organic Grocer), selling everything including wine and cakes made with organic ingredients. It is not a market for clothes and bric-a-brac.
A good place to start is Cleo's.  It has an entrance off Commercial Road and a window full of bread.  You can wander through the delicatessen and straight into the market.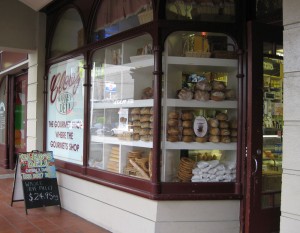 From Cleo's I head to stall 108,  MJ Mow Gourmet Potatoes.  Every variety of potato is available including the increasingly popular kipfler and one I had never heard of before,  Purple Congo.  This is good to mash and because of its colour good to use as a decoration.    There is a flier available that  lists 17 varieties of potatoes and  their different uses.  It is fun to experiment and I do but I love my old favourite the King Edward.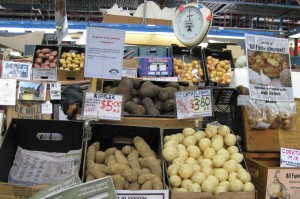 Stall 116 is Damian Pike the Wild Mushroom Specialist.  Wild mushrooms are those that come up in  a field after rain and have the best taste ever.  There not always available – it doesn't always rain.  The stall is interesting not only because of the selection of mushrooms but for unusual seasonal items like flat peaches from China which they say they stock.  I have never seen them but I believe they exist!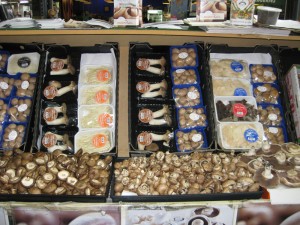 You can grab good coffee or dine on something more substantial in the Market Square which is partly covered and has a play ground for the kids.
Information:-
Damian Pike Wild Mushroom specialist Phone 0411 438 465
MJ Mow Gourmet Potatoes  Phone 0417 382 354
Address:-
163 Commercial Road, South Yarra
Opening Hours:-
Tuesday, Thursday, Saturday – dawn to 5pm
Friday Dawn to 6pm
Sunday 10am to 3.00pm
Closed:-
Monday and Wednesday
Getting there:-
Tram:- 72 and get off at Stop 30
Train:- Take the Sandringham Line to Prahran Station and walk to Commercial Road.  It's about 2 minutes walk