I'm in Chapel Street South Yarra  at 1.30pm on a sunny Sunday afternoon when I remember that I have to meet a friend in a city bar for 'catch up' drinks at 3.00pm.  Trams are easy but the last time I ate was a slice toast at 6.30am.  I need food or I will become one of those giggling, chatting, careless people who lose it after the first glass of wine.    I head to Commercial Road.
I  looked for Orange or was it Red or possibly Red Orange Cafe.  A cafe I remembered that served a great breakfast.  It appears to have gone.  It is always a bit sad when somewhere you remember has disappeared without any goodbye.  It is like a  sudden hole in the ground that you have to navigate around.
I navigated into the Prahran Market and wandered into the Market Square.  This turned out to be an ideal place to be on Sunday afternoon.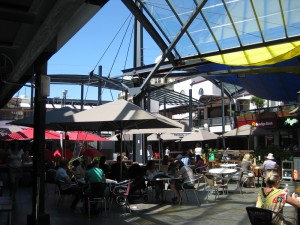 There is live music, relaxed families, people eating and people who are just enjoying the music.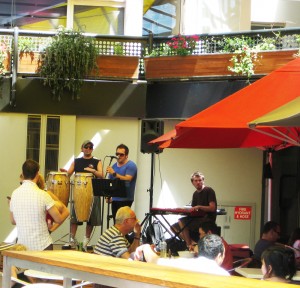 I shop at the market and have written about it before see here.  But this is my first Sunday Lunch/breakfast experience.  I say breakfast because I  always order breakfast at this time of the day.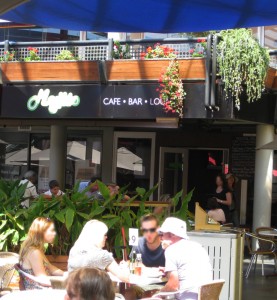 Mojito's had a breakfast special; two eggs any style, three rashers of bacon and two slices of toast for $8.90. I ordered this with the eggs scrambled and my usual flat white.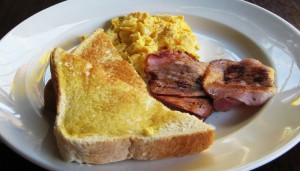 The coffee was good.  The band played.  The sun shone.  People chattered. The waiter with an Irish accent brought a bottle of water. There was a constant movement of people coming and going.  My breakfast came.  The scrambled eggs were just right, bacon tasty and the toast thick and firmly toasted.
There are other choices in the Prahran Market Square for Sunday Midday eating.  Cafe Egnaro serves focaccia and Prides
Cafe Egnaro
The Beangreen Vegetarian Cafe has salads of various combinations with chick peas and there are interesting looking fritters.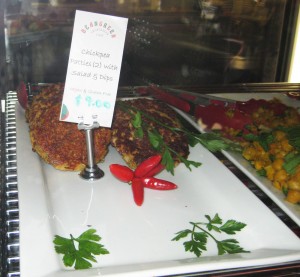 Beangreen Vegetarian Cafe
It was so pleasant and relaxing I was loath to leave but my glass of wine in the city called.
Mojito can also be accessed from Commercial Road.   The food is described as Mediterranean, Australian and Italian and they also have wood fired pizza.    I can only speak for their breakfasts.  It was the scrambled eggs that won me over.  So often they can be watery.
Where:
Market Place Prahran Market
Mojito Cafe and Bar 169 Commercial Road, South Yarra
Phone: 9826 6544
Mojito can also be accessed from Commercial Road.
Opening Hours:- Mojito
Every day from 8am for breakfast
Thursday Friday and Saturday until about 9.00pm for dinner.
Getting there:-
Tram 72  from the CBD
Tram 78 runs from Richmond to St Kilda along Church & Chapel Streets