The Albert Park Rotary has opened a community style second hand book shop.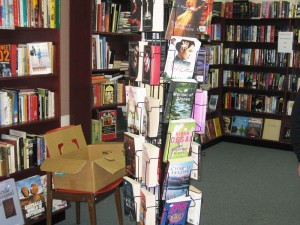 The idea is to involve the community in collecting and buying books and giving them a chance to circulate in the  Port Philip.  And as always with Rotary the money goes back into the community.
All the books are donated some are collected in bins that have been left in Port Phillip libraries for members to place their pre-loved books.  I guess we have all got books that we have read and probably won't read again and that we don't have room to house. This is a good place to give them a new start in life.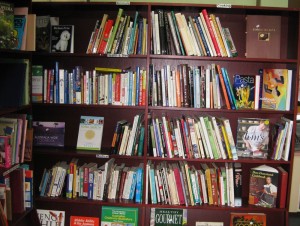 The shop is in a room of the Old Galilee School Building on Montague Street in South Melbourne.
You enter into a foyer that appears to be a collection point for rubbish to be taken to the tip.  Don't let this put you off, pick your way though it, turn right and step into the shop.  The ambiance of the shop is that of a library – shelves of neatly ordered and organized books.
And like a library they house books for everyone including fiction, nonfiction, crime,  children's books, cooking, travel and there is a good selection of classics.  The books are all in excellent condition, undamaged and very reasonably priced.  Many priced at about $3.00, so ideal for travellers and people who like to read and pass their books on.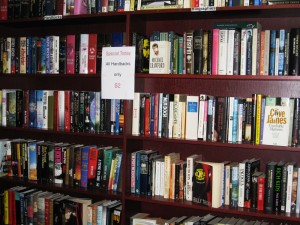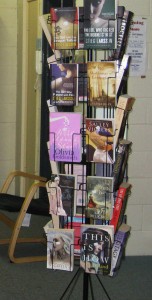 I have been there on a couple of Saturday and both times, including one cold and damp Saturday, there were a lot of browsers.  This suggests that there is a good turnover of books and a glimpse into the back room shows many more waiting to be processed.
It is a comfortable, relaxed, friendly atmosphere and strangers talk to each other about books.  One day the till didn't work and it was discovered that it wasn't plugged in, the radio had taken over the plug. I like casualness of this.  I would suggest that you bring money in small denominations.  The books are so cheap large amounts of change can be a problem.
Where:-
The Old Galilee School Building, corner Montague and Bank Streets, South Melbourne – enter from Bank Street.
Opening Hours:-
The shop is open every Saturday from 10am – 2pm
For enquiries or to donate books ring Henry 9681 7382
Getting there :-
Tram No 1 to stop 27 in Park Street.
There is plenty of free parking around the school.