Raglan Street runs along-side the railway line near the Balaclava station.
On Sunday morning the street-scape featured a shrink wrapped car.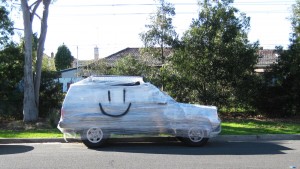 It was very well wrapped.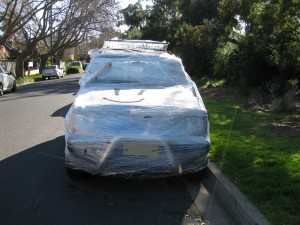 It would have taken a number of packs of cling wrap to secure the vehicle is such a way. There should be a prize for the person who can guess the number of packs of cling wrap that were used and the time it took to do it.
Of course we may now be able to shrink wrap our cars in the same way we do  with our luggage when we travel. A machine does that and ensures that no one can either take anything out or add anything to our baggage. The same would apply here the interior is completely sealed. The only difference is that our luggage can be moved.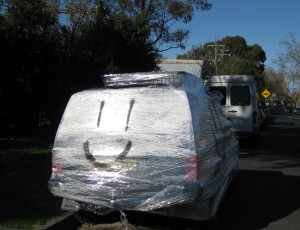 Melbourne  offers some weird, wonderful, beautiful and humorous things to see…..there is always something to see.
I would put this down as humorous.