This weekend Inkerman Street in East St Kilda has a change in culture.
The railway bridge on the Sandringham Line that spans Inkerman Street between Windsor and Balaclava stations is being strengthened. Inkerman street has been block in both directions for vehicles and foot traffic. So to access the Inkerman Hotel, the popular café next-door and Harro's Pizza House patrons have to travel in large a circle.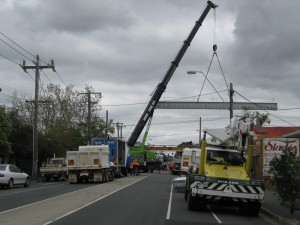 Consequently the shopping strip in Carlisle Street (running parallel to Inkerman Street) is jammed with diverted traffic. The many cafes are busier then ever with queues outside Las Chicas – the café adjacent to the Balaclava Station and almost under the rail decorated bridge. This bridge is worth seeing. It's a feature of the area.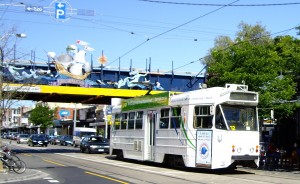 The view from the other side, that is looking west…..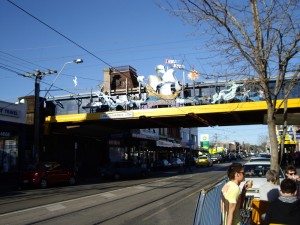 …. if you look closely you see these beautiful fish tucked away on the left.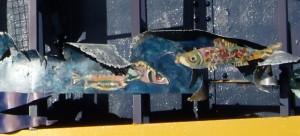 A number 3 tram takes you to Carlisle Street. East St Kilda