You don't have to be a railway buff to enjoy a stop at the Victorian Railway Arts and Antiques – the place that is like a museum.
Ride the 96 tram that's the light rail, to St Kilda and get off at the Albert Park Station.
From the platform you walk into the old, red, brick station building left over from the time when this was a railway line.  It houses railway memorabilia.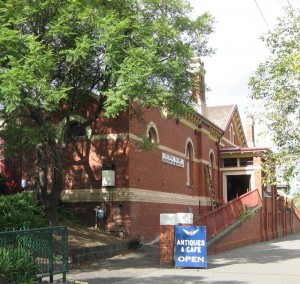 Wader around and you get to absorb the experience of travelling along route 96  when the journey was taken by train.
There is much old railway paraphernalia to browse through and also, beautifully resorted and polished pieces of furniture.  Some of the pieces are huge and hidden under smaller things. It takes ages to see what is there.
A nice touch, as you walk up the concrete ramp from Canterbury Road into the quaint red brick building, is the ticket dispenser still holding those old cardboard tickets.  It is as if you should take a ticket to continue your journey though the building.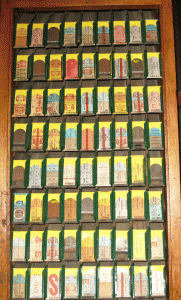 Some of my favourite pieces:-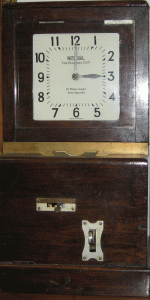 Station clock.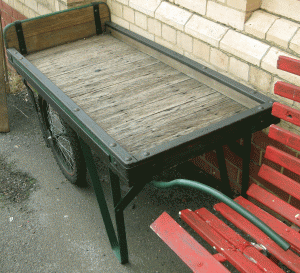 Station trolley
A small back door from the store leads onto the light rail platform and the other end of the long narrow building becomes a coffee shop.  This is a relaxed and friendly place. The word homely could describe it.
It is an odd cafe to find in sophisticated Albert Park.  It is like wandering into someone's kitchen and asking for a snack.
The kitchen runs behind the counter and if you arrive at the right time you can see the cook cum barista cum waitress taking a cake from the oven.  She makes all the food. The menu is simple, toasted sandwiches, cakes, biscuits, some large and beautiful meringues served with cream.
The coffee is good and the baked cheese cake one of the best around, there are papers and magazines to read, an open courtyard with more railway artefacts and the sound of the light rain swishing past to let you know that this is a station.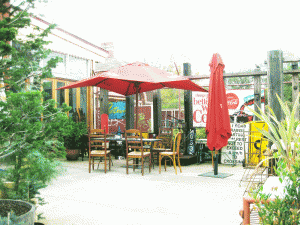 Coffee at Albert Park Station – Tram route 96
The Railway antiques are open daily 9.30 to 5.00pm
The coffee shop is closed on Mondays
Getting there:-
Ride the 96 tram to the Albert Park Station stop