I visited the Red Door in Windsor about eighteen months ago (see here) and had lunch with a friend.  The Red Door was relaxed and peaceful.  Even though there were a number of customers the feeling was one of intimacy.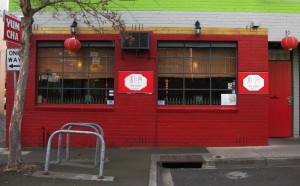 Last Saturday evening I returned with a group of ten people for an evening out.  Fortunately we had booked   We entered to a wall of noise.  The place was buzzing with groups as large or larger than ours.    We began to buzz too. The evening was off to a good start.
Last time we were able to admire all the antiques that are part of the experience and give Red Door its uniqueness.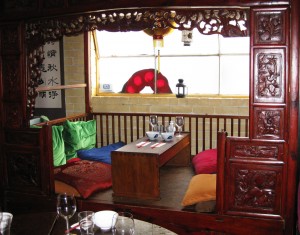 How did they fit everyone in amongst all those antiques?
It is hard to say because we didn't notice them when we arrived and we fitted ourselves around a convention style table and sat on conventional chairs.
The antiques that gave us such visual pleasure last time were, amazingly, dwarfed by the crowd.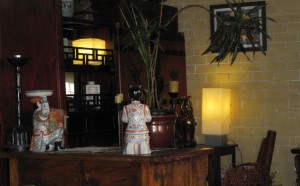 The Red Door is licensed and BYO.  We'd brought our own wine.  We settled into our seats, poured the Sauvignon Blanc toasted each other and checked the menu.
The advantage of a big group is that you can order a number of different dumplings dishes to share.  Our favourites:  Hu Zha,  lobster and scallop, and vegetarian these were the ones we re-ordered.
Great organization in the kitchen as the baskets of steaming dumplings came out in relays so we had a continual supply of food.
We ended our meal with  sweet buns, filled with red bean or custard.  Both were delicious.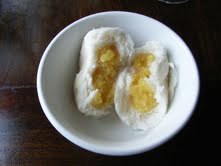 Steamed buns with custard
The price was reasonable for the amount we ate, the atmosphere electric.  We left very happy if a little hoarse.
If you want a quiet conversational night on Saturday, the Red Door isn't for you.   Try it for lunch or during a weekday.
At lunch, booking doesn't seem necessary but it is essential for dinner, especially on Saturday.
Red Door specializes in dumplings but if dumplings aren't your thing there are meat and chicken dishes served with rice. (see menu)  I haven't tried these dishes, dumplings being my thing.
Where:-
Red Door:-
1  McIlwrick Street,(off Chapel Street)
Windsor
Phone 9510 9658
Opening Hours:-
Monday:     Closed
Tuesday:    Dinner only  6pm-10pm
Wednesday to Sunday:  Lunch 12pm-3pm  Dinner 6pm-10pm
Web:-
http://reddooryumcha.com
Getting there: -
Train:-
The Sandringham Line to Windsor Station – McIlwrick Street is opposite the station.
78 Tram:-
This tram runs from St Kilda East to Richmond along Chapel Street.
Parking:-
In Chapel Street – One hour until 6pm