Sunday. The sun is shining and the part of the world that is South Melbourne is buzzing.  A good place to take in all this buzz is at an outside table at the Red Star Cafe. On a cold day a window table inside would do just as well.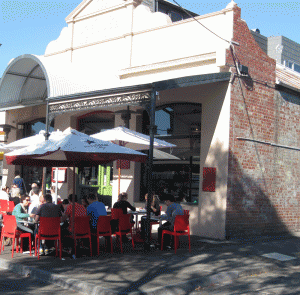 This cafe is right opposite the main entrance to South Melbourne Market so the action is all in front of you. The market is very popular with locals on Saturday and Sunday.  If people watching is your sport this is a good spot to do it.
The cafe is long and narrow with a courtyard at the rear.  The red chairs are for outside, only.  Inside is cool and more sophisticated with a polished concrete floor and dark wooden tables and chairs.  The tables come in various sizes including a long communal table.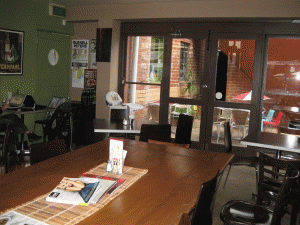 One wall is covered in posters advertising up-coming events and happenings, there is their organic coffee for sale and there are plenty of papers and magazines to read. It is a comfortable and relaxing atmosphere.
Breakfast is served all day.   We ordered one breakfast and two lunches.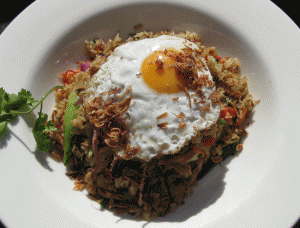 The Nasi Goering looked good, the egg was perfectly done, the flavour everything it should be. $15.50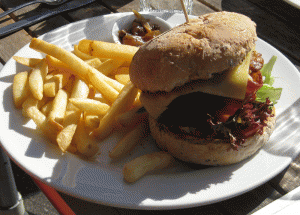 The beef hamburger had plenty of bacon and the egg just right but the beef was a little over cooked and on the dry side.  It  came with a side serving of caramelized onions and tomato sauce. $16.90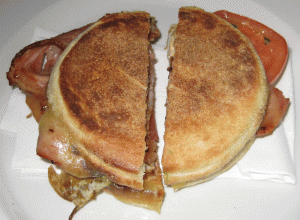 English muffin, bacon, egg and tomatoes was a  breakfast special  for $8.00 and was good value for the price.
There were fruit muffins available and cakes for afternoon coffee – the milk in the flat white coffee was silky but I like mine a little stronger, however you can't please everyone and I didn't ask for strong.  If you like it strong that would be the way to go.
Service was friendly and attentive with the waitress saying 'enjoy' when she delivered the food.  I found that rather endearing.  The Red Star Cafe, on the corner of Ward Street and Coventry Street, is a great place to sit and  view the action around the South Melbourne Market.
The Red Star Cafe opening hours:-
Mondays CLOSED
Tuesday to Thursday 8.00am to 4.00pm
Friday to Sunday 7.30am to 5.00pm
They serve organic fair trade coffee
Getting There:-
Tram:
96 (Light Rail) from Bourke Street, and get off at the South Melbourne stop. The market is about 2 minutes away.
112 Tram from Collins Street, get off on the corner of Clarendon and York Street.
Driving:
Melway:       Map 1C Ref E11
There is parking on top of the South Melbourne Market and some parking in the neighbouring street ( alot of street parking is Permit only, so watch out for that)