Get away from the crowds at St Kilda Beach and take the train to Sandringham Beach.

The Sandringham Train Line takes you right to the beach. The station is literally two minuets walk from the beach.
Grab the train at Flinders Street, sit back and relax while you gaze at the passing parade of suburbs – inner-city suburbs like South Yarra and Prahran and then on to the Bayside suburbs. Sandringham Station is at the end of the line.
Sandringham beach is 2.5 kms of golden sand. There are picnic grounds at road level then you walk down a flight of wooden stairs to the beach. On sunny a winter's day it can be perfect there – sparklingly beautiful. Take food from the city or buy at the local shopping strip. The strip is okay for food and there's a Coles Supermarket.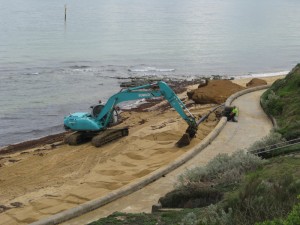 Recent working being done on the beach – so much golden sand!! I love it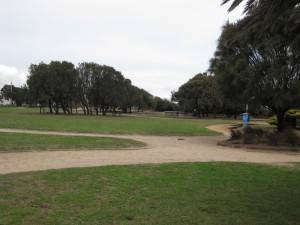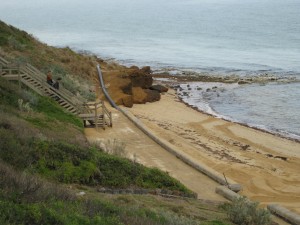 The Sandringham Yacht Club is nearby where you can learn to sail or crew on one of their many yachts.
The Rotunda is a feature of the area and I've been told it has been used for wedding ceremonies – the service and the photographs. Romantic but perhaps a little close to the road for intimacy.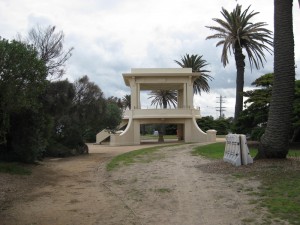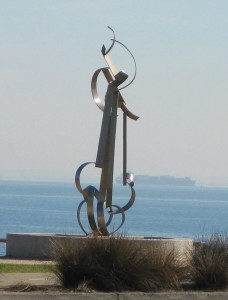 'Windhover' is a stainless steel statue by the Lenton Parr that stand at the edge of the picnic reserve. It is said to represent the many yacht sails on the bay but to me it looks like an angle watching over the beauty of Sandringham Beach.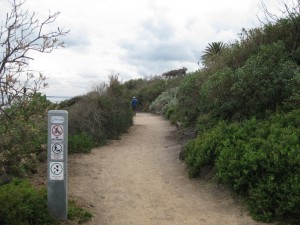 If you're not swimming you can head around the cliff edge…………