The news report that  Rocco "Rocky" Pantaleo died in a road crash at St Kilda Junction gave me new insight into my favourite La Porchetta  restaurant in North Carlton.  I have written about it on this blog – see the link  to that post at the bottom of this page or here.
I knew nothing of Rocco Pantaleo on my first visit there and have subsequently eaten there on a number of occasions still not realizing why it was decorated this way.   I ate there because I liked the atmosphere and the pizzas.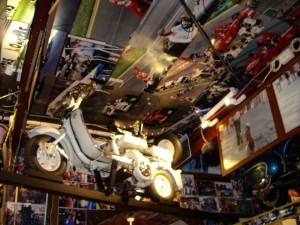 I understand now that this was Mr Pantaleo's flagship – his first restaurant. And  I see why it is full of motor bikes and racing memorabilia. This was his passion.  I'm told he was often in the restaurant so I may have seen him without realizing who he was. I believe many of the rich and famous have eaten there including Bill Clinton.
I live near the St Kilda Junction where he was killed on his way to the Grand Prix.  I will never pass that way again without thinking of him and La Porchetta in North Carlton.   I plan to visit the restaurant  next week so I can eat another delicious pizza and raise a glass of red to memory of Rocco Pantaleo.
La Porchetta
392 Rathdown Street
North Carlton – Phone 9347 8906
Getting there:-
Tram 96 to East Brunswick.
It runs along Nicholson Street. Get off at Curtain Street and walk left, through to Rathdowne Street.