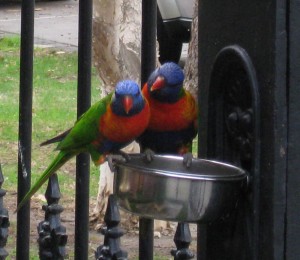 St Kilda is a great place to see some of Melbourne's population of Rosellas.  They sleep in the palm streets around the tram stop at Luna Park.  In the morning you can see them flying off and at dusk they head for home in great flocks swooping into the palms and yelling to each other. The noise can be deafening but worth experiencing with the orange-glow of sunset on the palms.
There are some Rosellas who stay around St Kilda.  I saw these one mid-morning in one of Melbourne's most beautiful street.  Mary Street runs from Beaconsfield Parade to Canterbury Road and is just off Fitzroy Street.  It's a quiet oasis after the frenetic activity and excitement of Fitzroy Street.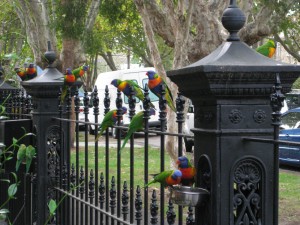 I love the way you can find statues in streets all over Melbourne.  This one is on the roundabout where Mary Street is intersected by Lock Street.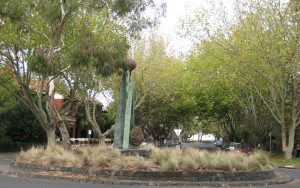 Read about the statue.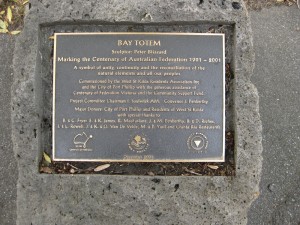 The number 12 tram goes down Fitzroy Street and you need to get off at Lock Street.  Also you could get a No3 tram that goes to Kew.  Many of these divert from their original route and travel along Fitzroy Street.