Rupert Bunny is an Australian Artist who having been born here in Melbourne left for the cosmopolitan world of London and Paris.  You can imagine how different life in Europe was at the beginning of the 20th century to life in Melbourne or any Australian city.  His paintings depict it.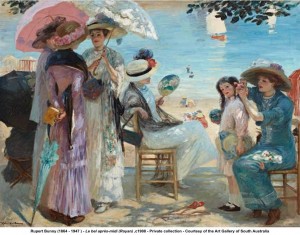 Rupert had grown up in an affluent household and learned to speak French and German fluently.  He became much better known in Paris for his art than in the country of his childhood.  He made a good living in France.

The exhibition at the Ian Potter Gallery at Federation Square is a very comprehensive look at his work, covering the different styles that evolved over the years
Rupert Bunny has become a news item over the last few weeks.  His exhibition opened at the Ian Potter Centre in Federation Square and a painting of Rupert Bunny's that was stolen 19 years ago was found in a house in East Malvern and was seized by the police during an early morning raid.   The painting is called  Girl in Sunlight and it belongs to my favourite era of his paintings – the Belle Epoque - meaning beautiful era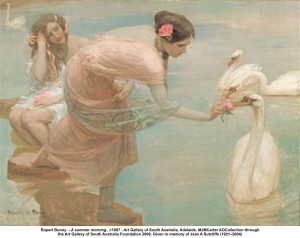 He excelled at painting beautiful women in beautiful frothy clothes showing a graceful and languid life style with a background of colour, texture, light and warmth from the Belle Epoque period.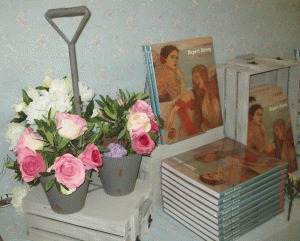 These are the paintings I enjoyed.  These are the paintings I bought post cards of.  The NVG shop on the ground floor has a French inspired display in their window and you can buy a rose or poppy parasol/umbrella.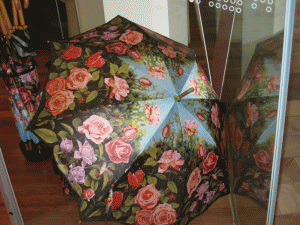 Those of us with a touch of the Francophile in us can't resist.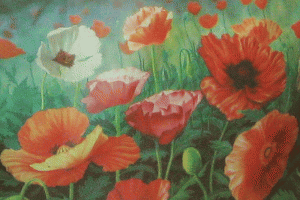 A bag decorated with poppies is just another beautiful reminder of that time and place in history.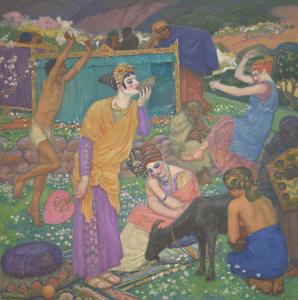 Here is an example of a completely different style that he painted. It reminds me of some of the Indian miniatures I have seen.
Rupert Bunny Exhibition:-
The Ian Potter Centre
Federation Square
CBD Melbourne
Opening Times:-
10.00am to 5.00pm Daily
The Exhibition lasts until July 4th
Admission:-
Adult $15.00
Concession $12.00
Child (ages 5-15) $7.50
Family $42.00
NGV Member $7.50
NGV Family $21