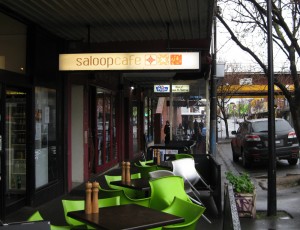 Saloop Cafe is in a little neighbourhood strip that is mainly used by locals. The long narrow entry opens out into a larger space at the back.  The atmosphere is friendly and casual and the service somewhat slow.  This would matter if it served a different population.
We were there for lunch.  It was freezing and pouring with rain; one of those Melbourne days that have happened so often this year. Even so there were a number of people there – Mums and young kids, retirees and some men who appeared to be working nearby.
The decor is simple with these pattern as a feature.

We sat and talked for ages before we were asked for our order, so long in fact that we felt we needed to review the menu again.  We went for the Calamari Salad, Caesar Salad and the Indian platter that was a special.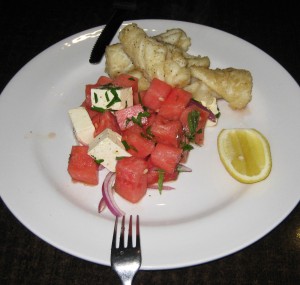 Calamari Salad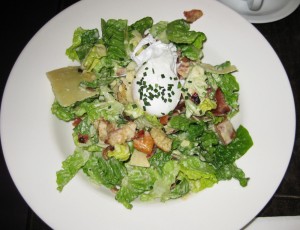 Caesar Salad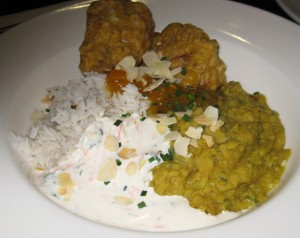 The Indian plate
The Caesar Salad was all it should be, the Calamari Salad presented very soft calamari and a delicious dressing.  The Indian plate was a little disappointing – not as interesting as we expected.
The coffee was exceptional and a sticky date pudding was pronounced delicious after it was brought to our table and then taken away to heat and to have caramel melt and soak into it.
This is a neighbourhood cafe.  Ideal for breakfast or lunch but also coffee and a cake – the coffee was the best and I am told the Macaroons are delicious.  There are number pastries and sweet treats to choose from as well. Now that is something to think about if I am in the area again.
Where:-
Opening hours:-
Weekdays 7am to 4.30
Weekends 8.00 – 4.00
Getting there:-
Parking:-
There is one hour parking outside in Martin Street but if you go down one of the residential side streets you find two hour or all day parking.
http://www.martinstreetvillage.com.au/
This seems to be a new web site which will be great for anyone wanting to stop by and explore the area.
Gardenvale train station is right there: the Sandringham Line