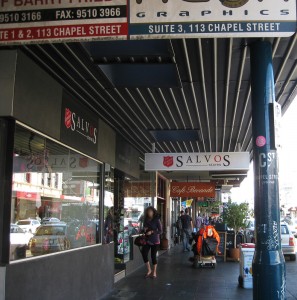 Glamour isn't the usual feeling you get when you walk into an op shop.
Yet, glamour and style is a vibe you get as you walk through the wide uncluttered doorway of the Salvos new op-shop in Chapel Street, Windsor.  The display is all about style, well as much style as you can have in an op shop which from necessity has clutter.  Most of the clutter here is in the back, so not immediately visible.   The polished concrete floors give a touch of uber-cool!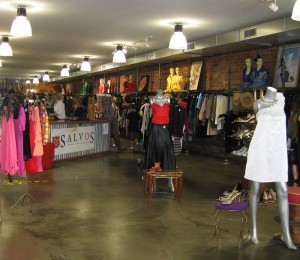 Last year the Salvos  moved from a more cluttered and tradition style of space on the other side of Chapel Street.  This new, bigger area has given them chance to spread out and to make browsing easier.  The clothes are well organized.  The specials and the discount days are still there.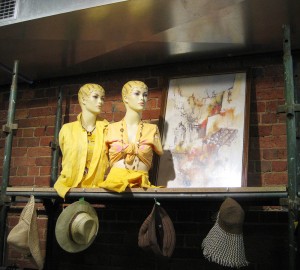 On Saturday when I was there all yellow ticked items were half price and if you bought two books you got a third one of a similar price free.
There are displays of music, including vinyl.  On Saturday Bing Crosby crooned from the speakers – very relaxing while we sorted through the racks.  He was probably for sale.  Most of the music is.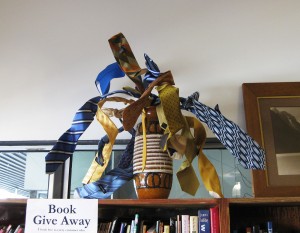 I love the way they display the ties – almost like a bunch of flowers.
One wall is covered with photos giving a visual look at The Salvation Army in their early years in Australia.  This is fascinating and I noticed several people studying it while I was there.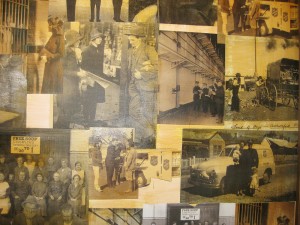 Where:-
The Salvation Army Store
111 – 115 Chapel Street,
Windsor, Victoria
Phone:  (03) 9529 4542
Opening Hours:-
Mon – Fri 10am – 7pm
Sat 10am – 6pm
Sunday CLOSED.
Getting there:-
Train: Sandingham Line to Windsor
Tram: Trams 78 and 79 run the full length of Chapel Street between St Kilda and Richmond.  If you are coming from the CBD by tram you need a tram number 8 or 6 or 72.  These trams intersect with Chapel Street.