Cuppa Cottage?   What a name I thought.  Who would think that up?  Would someone really expect people to be drawn to a cafe with that name?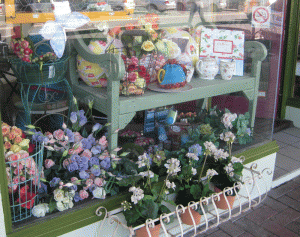 I have a friend who can't get the words the right way round and calls it Cottage Cuppa.  Either way it is a silly name.
I guess naming something is difficult.  Naming your cat or dog is difficult enough so the business you dreamed of has to be just as hard.
The Cafe is country –chic and until recently when it took over a room next door it was tiny and crowded.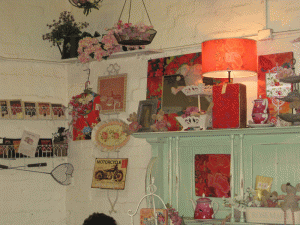 Cuppa Cottage at 88 Station Street is becoming a day-time institution in the Sandringham shopping village.   So don't let the name put you off when you take a trip to Sandringham beach or the yacht Club.  It is right by the railway station.
The food is good which is why I am writing about it. Where else in Melbourne do find scones as one of the highlights on the menu.  Cuppa Cottage may serve muffins but I have no idea because it is hard to go past the scones.   They have a tiny kitchen where they turn out batches of scones, cup cakes, pies, tarts the best sausage rolls around.   Everything is delicious.

A New Zealander called Sandra started the business a couple of years ago and has built up a loyal and regular clientele.  It sounds and looks very feminine.  But you are just as likely to see a group of guys from a local building site eating there as a group of women having tea, coffee or chai.  Do blokes drink Chai?   I must find out.
After school there are children of both sexes buying the beautifully iced and decorated cup cakes.  These are decorated with style and flair.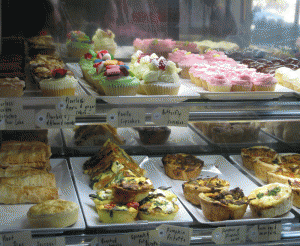 A lunch time favourite is soup and toasted sandwiches.  They serve salads pies – a wonderful bacon and egg pie and there is a black board menu with the dish of the day.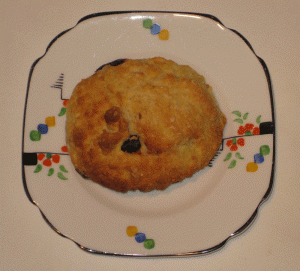 I go for the scones.  They are just like mum or grandma used to make (may be better)  but with a modern edge.  Date, Cheese, Plain and then there are the savory ones – spinach and feta, last time I was there. The best are the raspberry ones and they will serve them with jam and cream.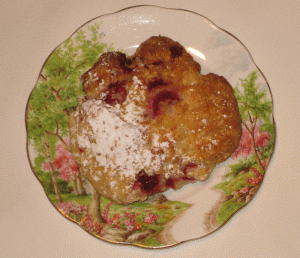 The cafe is also a gift shop and the ambience is enhanced by the merchandise which appears to be selected to add to the country-chic look.  There is creative flair behind the business.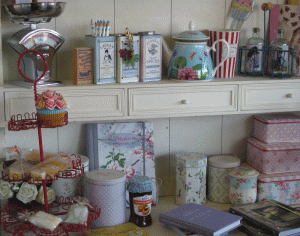 Check out the cups, saucers and plates.   Many of them are pretty china from another era.  These are sourced from op shops but also dropped off by people who feel their no-longer-wanted-china will find a good home at Cuppa Cottage.  The name gets better when you say it often enough. It has begun to grow on me.
The Sandringham Yacht Club is nearby where you can learn to sail or crew on one of their many yachts.  You can contact them on 9599 0999
Getting There:
The Sandringham train line from Flinders Street Station terminates there.  The beach and the shopping are at the terminus.  Cuppa Cottage,  88 Station Street is across the road and the beach is two minutes walk away.
Phone: 9598 9334
Parking:
There is one hour free parking  in Station and the neighbouring Streets.   All day parking can be found on the right hand-side of Trentham Street, just up Bay Road and off to the left.