Middle Park – preserved Old Melbourne
Tourists to Melbourne often see this city as the CBD and Lygon Street in Carlton.  That was the way I saw Melbourne when I first visited here. I came a couple of times a year re-newed my friendships with these spots and of course the cake shops in Acland Street, St Kilda.  I once took a tram to elegant Toorak and on another occasion shopped in Bridge Road.
Now I live here I find new places to love. Middle Park is one of these places.  It flows serenely below the tourist radar.  I'm sure the residents like it this way.  It is an old and beautiful suburb full of Victorian and Edwardian homes and established trees.  I find it quintessentially Melbourne.  It is accessed by a tram and the light rail and is about 10 minutes from the CBD.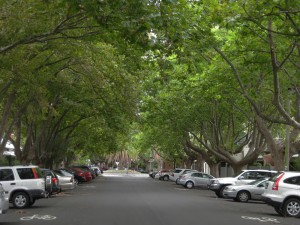 The suburb is nestled  between St Kilda West and Albert Park and bounded by Canterbury Road, Mills Street, Fraser Street and Beaconsfield Parade.  This is an expensive suburb to buy into but it keeps its wealth quietly unobtrusive.  The streets are lined with Victorian villas and terraced houses and many streets run down to Beaconsfield Parade and then to the Middle Park Beach where  you can work out – courtesy of the City of Port Phillip.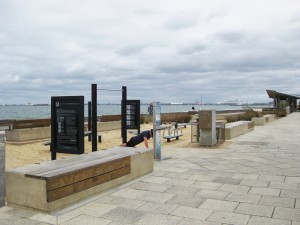 There is a heritage overlay on most of the streets so all up-grades have to keep the street frontage.  Melbourne designers are adept at making space out of nothing and a number of these houses have gone up at the back and two bedroom places have morphed into three and four bedrooms with multiple bathrooms with no real evidence of this from the street-scape.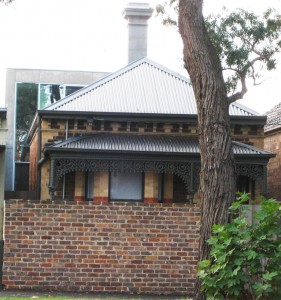 Note the extension on the back of this house.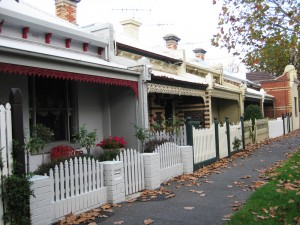 Preserved Victorian Terraces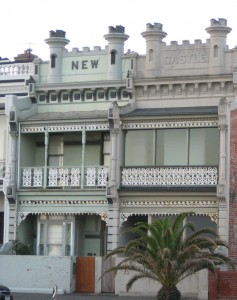 Beaconsfield Parade
To wander around this area of Melbourne and live for a moment as a Melburnian (tourists are missing from here) I suggest you grab the light rail, tram 96 heading to St Kilda and get off at Middle Park.
The people of Middle Park like to eat, and you can see this the moment you alight.  You are at Cafe Mart see my blog here. The Mart Cafe is a favourite of mine, either sitting on a chair on the platform or my preferred spot inside on the bench overlooking Albert Park.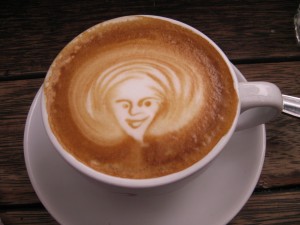 Cafe Mart coffee
Eat now or browse further.   Armstrong Street is opposite the tram stop and it is Middle Parks answer to the village High Street.  Everything happens on Armstrong Street.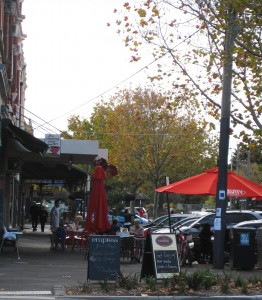 The Middle Park residents like to eat. And eat some more.  Both sides of Armstrong Street are crowded with eateries.  This includes the Middle Park Hotel an old pub that has been whisked into the 21 century.
We always have our own favourite places to eat.     One of mine is Hot Honey at the other end of the street see here, I am addicted to their food and the  atmosphere is welcoming and comfortable.  They have a fire in the winter.
One of my reasons for suggesting you come to this suburb is Richardson Street and streets running parallel and intersecting with it.  Richardson Street is the jewel in the crown. Wander along it, kick the autumn leaves, in winter admire the twigs and branches against the sky and in spring the new shoots give a pale green haze.  In summer relish the shade these beautiful old trees give on a hot summer day.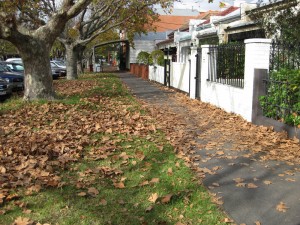 As you look at these lovely Victorian and Edwardian villas and terraces know that what you are looking at is the tip of the suburb, like an iceberg  so much is unseen.    Melbourne is like this too, so much is hidden from the casual visitor.
It is said that Middle Park and is neighbour Albert Park have some of the best preserved terrace house and Victorian architecture in Melbourne.  Check it out yourself.  Remember to look at the various architectural designs along Canterbury Road as you get off the light rail.
Getting There:-
The easiest way – 96 tram from Bourke Street in the CBD and get off at Middle Park.