My first visit to Shakarhari, the vegetarian restaurant at 201/203 Faraday Street  in Carlton, was a few years ago.
I was with a vegetarian  friend who was visiting  from overseas and I  wanted to give her a experience of fine dining –something more than the  average vegetarian fare which often seems to include beans or Dahl.  Actually I quite like Dahl but I don't see it as fine dining.  A work colleague suggested Shakarahri.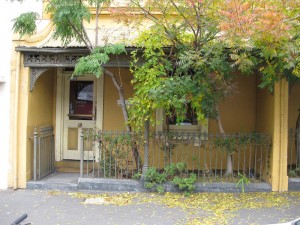 We dined well.   The evening and the food were a great success.
This year an old friend suggested Shakahari for a pre-Christmas  catch-up lunch.  I was excited and I wondered why I had left it so long between visits.
The outside of the restaurant is the same. A cute cottage painted yellow.  It opens up inside and flows through to the right, which takes you into the next door house and to the courtyard.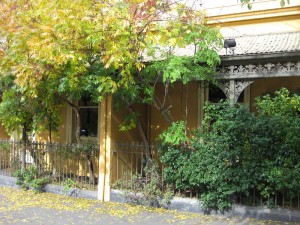 The inside is still the same orange colour and still furnished with a few Indian/Asian  artifacts.  It is comforting to find something you remember with affection is still the same.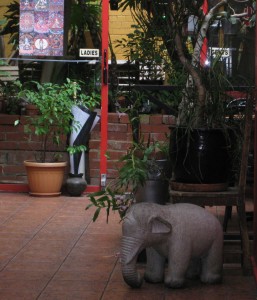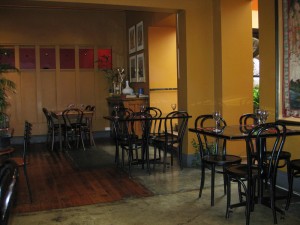 However the menu had changed since my last visit so it was like a new adventure.  No change in the wine list and we ordered the Richmond Organic Sauvignon Blanc from New Zealand, that I remember,  to sip on while we chatted and discussed food.  I have always been wary of organic wines but this is a good Sauvignon Blanc.  $8.00 per glass.
There is a touch of romance to the menu.  For example 'Scent of a green papaya' in the entrees.  How could you go past a dish with a name like that – as you read it the scent seems to waft around you? You immediately want to taste  it. $14.50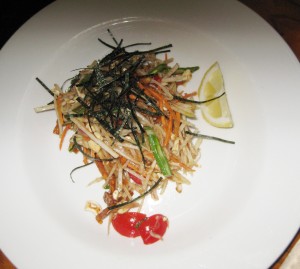 Scent of a green papaya
This is how the menu describes the salad  -" Northern Territory green papaya (high medicinal qualities) lightly crushed and tossed with green beans, cherry tomatoes,cashew nuts and seaweed tofu crisps. Dressed with a sourish tamarind palm sugar chilli sauce".
We also chose Croquettes de Chine.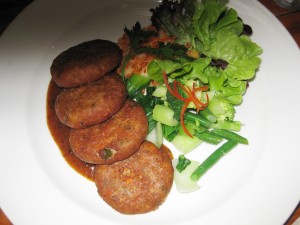 Croquettes de Chine
This dish is described as;  "Crunchy patties of steamed mashed yam, potatoes, roasted macadamia nuts, pickled turnips and diced vegetables. Served with herbal oil, tossed greens, kim chee and a mild black bean ginger sauce".  $19.5
We shared these dishes and thought them good choices for lunch.  The papaya salad was especially interesting.  The taste was light and different,  possibly like the scent of a green papaya.  We would order it again.  The Croquettes were filled with a subtle flavour.  I remember them from last time but I think they had something different served with them.
We  had intended to have dessert and we had talked about their 'Black Rice and Sago Pudding' as we headed to the restaurant only to find it was one of those things removed from the menu.
Another disappointment was the change in the seating. It was a calm warm day with some sun and we wanted to sit in the courtyard but there were no tables only benches for seating.   We asked about a table but we were told the manager, who wasn't there, had wanted it that way.   I hope he has a change of heart and puts tables and chairs out there again.
Friendly service, fine vegetarian dining.  The restaurant has been operating for about 20 years so they must be doing something right.  For me it is the different slant on the usual vegetarian fare giving the meal a touch of lightness, that is often the romance of food.  In the winter a gas fire  looks cheerful and welcoming– try for a table near it.
The menu is labeled for gluten free, non dairy and vegan dishes see here. If you plan a visit have a look at the menu on line before you go.  It will help you work out what you want to eat.
Where:- Shakarahi Vegetarian Restaurant
201/203 Faraday Street
Carlton
Phone:- 9347 3848
Opening times:- Monday to Thursday Midday  to 3.30pm then 6.00pm to 9.30
Friday to Saturday Midday to 3.30pm then 6.00pm to 10.30pm
Sunday 6.00pm to 9.30pm
Getting there:- All trams that travel north along Swanston Street eg, 3, 6, 12,1, 8, 67.  Get off at the University stop and walk along Faraday Street to Lygon Street.  The restaurant is just over Lygon Street.