One of my favourite breads in Melbourne is Noisette's Sourdough Fruit Bread and my favourite Melbourne place to buy it is at the Pickadeli in the South Melbourne Market.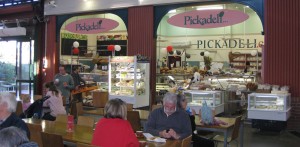 In fact now I think about I only buy it at the Market. I still pop into Noisette's on Bay Street, Port Melbourne for coffee and cake but I buy their bread at the South Melbourne Market.  It seems a very odd thing to do when I think about it.  But of course I have an excuse to buy cheese and other deli items while I'm in the South Melbourne Market.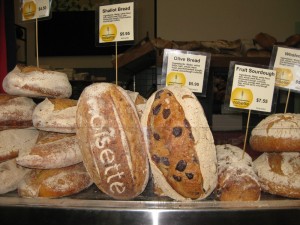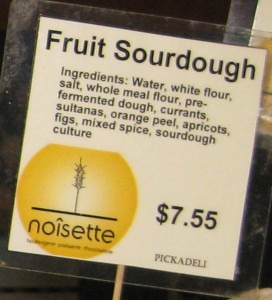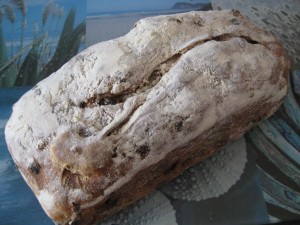 My fruit loaf on my charming 'marine' chopping board – sourced in New Zealand
I'm not sure why they cover it in flour.  It's not ideal if you are wearing  Melbourne black.  I take great care to bang off the flour before I slice it.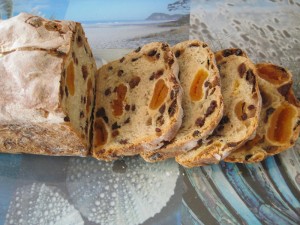 Pickadeli stocks breads from other famous bakers like Irrewarra and Phillippas but I can't go past Noisette's Fruit Sourdough toasted with morning coffee; large chunks of fig and apricot set off by currants, sultanas and orange peel.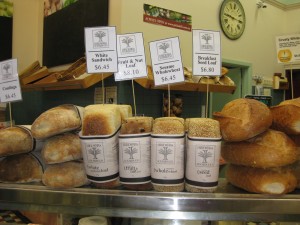 I'm not the only one who likes it because I have been there about midday and found that they have sold out.  Of course for any market you need to be there early in the morning to get the selection.   South Melbourne Market is no different.
What:-
My Favourite fruit bread:
Where:-
Pickadeli South Melbourne Market:
At the end of the market near the car ramp and the light rail
Getting there:-
Tram:
96 (Light Rail) from Bourke Street, and get off at the South Melbourne stop. The market is about 2 minutes away.
112 Tram from Collins Street, get off on the corner of Clarendon and York Street.
Driving:
Melway:       Map 1C Ref E11
There is parking on top of the South Melbourne Market and some parking in the neighbouring street ( alot of street parking is Permit only, so watch out for that)