A pair of magpie-larks or mud-larks, as they are sometimes called, have honoured the Rainman statue in the St Kilda Botanical Gardens by making a nest on his arm.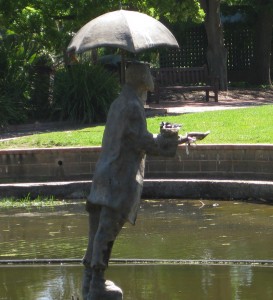 They look very much at home and secure as they fly to the statue and settle on their nest to keep their eggs warm.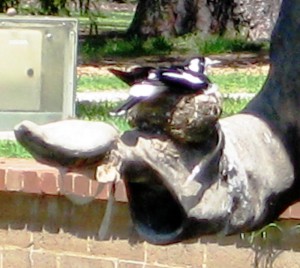 I haven't seen many of these little magpie–larks in the gardens.  You can hear the shrill, piping voice of one or two of them occasionally.  So I think these must the ones I heard piping and shrilling away during the winter and I like to think they see the gardens as their home.
The Rainman is rather a forlorn figure these days.  His pond is almost empty and his base is exposed so he no longer looks as if he is standing on water.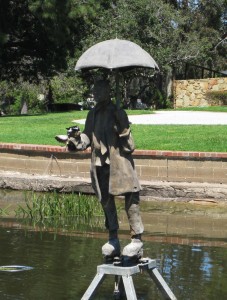 The Magpie-larks have chosen a secure and friendly place to bring their family into the world.  No four legged-predators can get across the muddy pond and disturb them.  When it rains the Rainman is there to shelter them.
The magpie-larks build round nests that are quite small.  They make them of grass, plant material then plaster all this together with mud and then line the nest with feathers, soft grass and fur.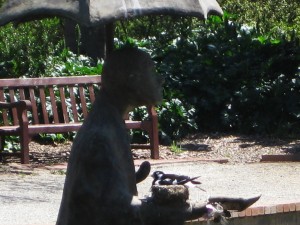 I like the thought of the three of them; the Rainman and prospective Mum and Dad settling down together every evening.
These two small black and white birds don't appear nervous of being watched and photographed and they are happy to potter around in the muddy edge.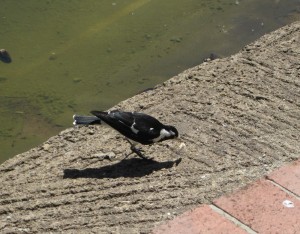 Magpie-lark or as it is sometimes called mud-lark at the St Kilda Botanical Garden
Getting there:-
96 Tram to the terminus at the end of Acland Street. Walk up Blessington Street – on your left.
Trams 67, 3 or 16 to the corner of Brighton Road and Carlisle Street and walk along Blessington Street – Blessington Street is on your right when you get off  the tram.
Opening Hours:-
Between sunrise and sunset seven days a week and the conservatory is open between 10.30am and 3.30pm week days and 1.00pm and 4.30pm Saturday to Sunday and public holidays.