The St Kilda Botanical Gardens are in winter mode.  It is a lovely time to visit and see the gardens preparing for spring and summer.  Occasionally you see a sign of things to come with clumps of bulbs sending up their first spring shoots.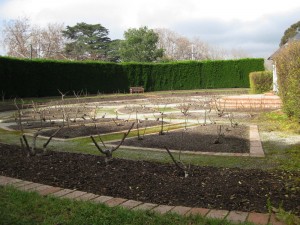 The ambiance in the Alistair Clarke Rose Garden is different at this time of the year. The roses have been pruned – the green and the flowers have gone and the canes are stark against the mulched ground.
I am interested in their pruning style.  When I studied the canes and what was left after such abundant growth earlier in the year I realized that I had been very timid when I pruned my few roses.  The gardens have cut them back severely.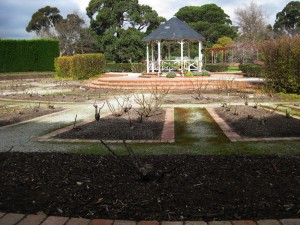 I am looking forward to seeing how these canes sprout and how quickly the flowers come.  Last season they were beautiful.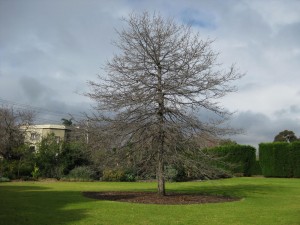 The grass is very green after all the rain we have had and bare branches of the deciduous trees stand out  against the sky and the luscious green of the Macrocarpa hedge that protects the rose garden.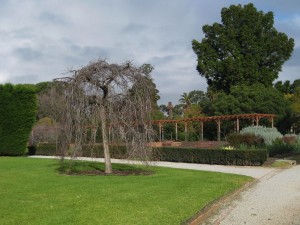 There is a lot to see at this time of the year.
Getting there:-
96 Tram to the terminus the end of Acland Street. Walk up Blessington Street – on your left.
Trams 67, 3 or 16 to the corner of Brighton Road and Carlisle Street and walk along Blessington Street – Blessington Street is on your right when you get off  the tram.