This is a monthly free paper.  It is not delivered.  You need to pick one up from local outlets.  I got mine from the Grumpy Swimmers Bookshop in Elwood. Another good place is Safeway in Balaclava.
The editor describes this as an Open Newspaper.  This means that anyone can write for it and summit their article.  This makes it a vibrant and relevant newspaper that reaches all  in the community.
The latest issue is a densely packed 31 pages of local information.  There is information on Farmers' Markets, the Melbourne band Soul Safari, Sacred Heart Mission has a column and Port Philip Deputy Mayor and Catani Ward Councillor Serge Thomann has a Postcard from France.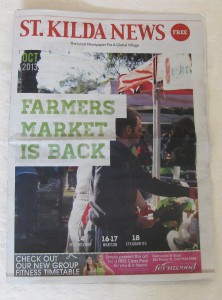 A section is called St Kilda Bites – featuring food in cafes and local restaurants.
This month there is a double page spread on Armstrong Street in Middle Park.  It  mentions  two of my favourite cafes Hot Honey and Mart. You may want to check out what I have said about them.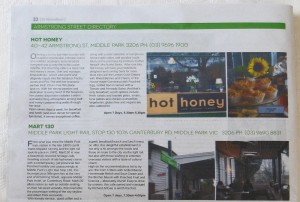 Tamara Griffiths writes about making a Herb and Weed Salad and explains how to do this.
There is a section that is of value to Tourists and Visitors as well as Locals.  It gives you a chance to compare eateries and  check out some that may be under your radar. There is plenty of information for a visitor to the area to get an understanding of the  iconic suburb and feel like a local.  The ads keep you in the know too.
If you are around the area grab the St Kilda News,  read it, and indulge, try the highlighted local hot spots and consider writing your own contribution.
Contact details:
St Kilda Newspaper
P.O. Box 1427
VIC 3182
Phone 1300 48 55 11
More Armstrong Street Cafes