December arrives and the fabulous and fun St Kilda Twilight Market is up and running again.  It's on again this Thursday, the 8th of December and goes right through summer until March next year.
Every year during summer the St Kilda Twilight Market brings the local community and visitors together on Thursday evenings with an evening filled with picnics, music, food and an amazing array of market stalls.  I am pleased to see that Senor BBQ, an Argentinean Charcoal Grill, is back again this year. It's my favourite food from other years.  It has been at the market since its beginning.
The choice of food is amazing and you can eat something different every week as you enjoy the atmosphere in O'Donnell Gardens amongst the palm trees.
The market starts setting up early for a 5.00pm kick off and it officially goes through until 10.00pm.  It is good to be there a little early.  The crowds build up quickly and if you have done your shopping, decided on your food for the night and grabbed a picnic spot you can kick back listen to the music and watch the crowd.
After dark the place lights up and there is a little magic along with the food and music.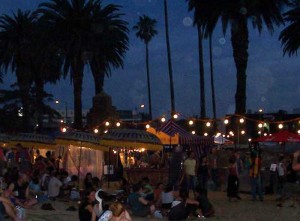 Getting There:-
Take one of three trams from the city -
Numbers 96, 3 and 16.
They all take you right to O'Donnell Gardens,  opposite Luna Park.