The Station Hotel in Footscray is one of the many corner pubs in Melbourne that has re-invented itself and turned itself into a gastro pub (Gastronomic pub).  No longer the bangers and mash ordered at the counter, now it is dining-room service for these old pubs.  The kitchens are run by chefs who have proved themselves at other establishments around Melbourne.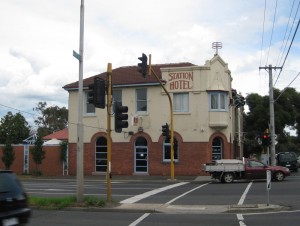 Station Hotel Footscray
One such pub is the Station Hotel on the corner of Napier and Hyde Streets  in Footscray.  The owner and Chef is Sean Donovan who has worked in France and England and the Botanical in South Yarra, Melbourne.
The building, built in 1864, has no great architectural merit but the new colours have given it a bit of style.    Inside there is a bar with an outside courtyard attached for a casual drink and a large dining area at the rear.
The dining room has an old world – European – atmosphere with a lot of dark wood, white table clothes and sparkling glass wear.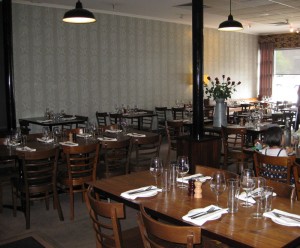 I had been told that the service wasn't good but we had no complaints.  We booked for lunch, we were greeted on arrival, seated, given menus, the specials of  the day and the one omission from the menu explained to us.
The Station Hotel's menu is extensive and interesting and is the same for lunch and dinner.  The house specialty is steak.  Here are the steaks that are available.
"200g Stockyard (QLD) 200 day grain fed wagyu "Bavette Steak" $28
250g Rangers Valley (NSW) 300 day grain fed Black Angus rump $28
250g Sher Wagyu (VIC) 450 day grain fed Wagyu rostbiff $32
300g Clare Valley(SA)150 day grain fed Black Angus scotch fillet $36
300g Clare Valley(SA)150 day grain fed Black Angus sirloin $36
400g Gippsland (VIC) dry aged grass fed Black Angus rump steak $36
200g Goulburn Valley (VIC) grass fed Black Angus tenderloin $38
400g Gippsland (VIC)dry aged grass fed Black Angus
New York strip steak$38
500g Greenham (TAS) grass fed Black Angus t-bone $38
500g Darling Downs(Qld)grass fed Black Angus rib eye $42
All served with hand cut chips, salad and béarnaise sauce or pepper sauce"
(These prices were correct at the time of writing – you may want to check them here.)
There are also a number of unusual  items such as;  Serrano ham with figs and Cashel blue cheese aioli.
We started by thinking we would try one of these but our minds slipped into the old worn tracks and we ordered conservatively.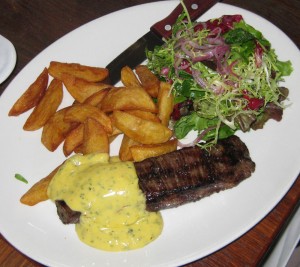 200g Stockyard (QLD) 200 day grain fed wagyu "Bavette Steak"
The waitress didn't know what 'Bavette Steak' was but Wikipedia explained [it]  "is a beef steak cut from the abdominal muscles of the cow"   or otherwise the flank.  There is a choice of  sauces.  Unfortunately the béarnaise sauce was considered strong by the diner who ordered it.   She would have asked for sauce on the side had she known.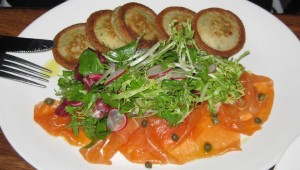 Marinated ocean trout with warm buckwheat blinis.
This was pronounced delicious by the diner who chose it  and she would order it again.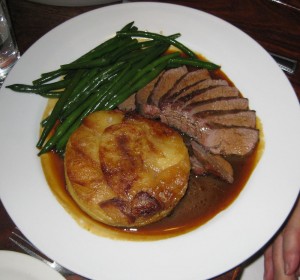 Gippsland lamb rump with boulangere potatoes – the beans were ordered as a side dish.
There were no complaints about this choice.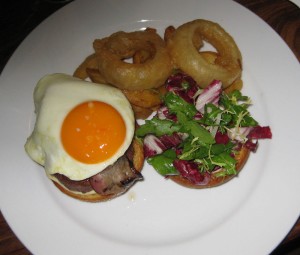 Station burger, onion fries, bacon and fried egg
With all the interesting and exotic choices it seemed a pity to order a hamburger but two of us did that.  It was a pity we were so wedded to 'pub' food.
This was a very ordinary hamburger except for the caramelized onions on top   The onion rings were greasy and with a very small shaving of onion. I feel it is over priced $18.00.  There are better hamburgers around.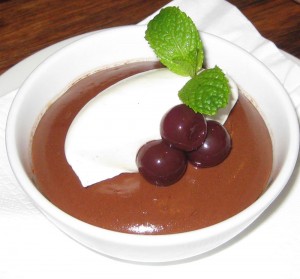 Valrhona chocolate mouse with griotinnes and kirsch
We all had a mouthful of this and we all thought it was one the best mouses that we have tasted.  Very rich and fit for the gods.
Some great food at the Station Hotel – possibly a little over priced for lunch but then we are no longer talking about pub food – this is fine dining.
Where:-
Station Hotel
59 Napier Street, Footscray – Phone 9687 2913
Web site - Station Hotel
Opening Hours:-
Open 7 days a week
Lunch 12.00 to 2.30
Dinner 6.00 to 9.00
Getting there:-
Driving
Melways Reference -     There is some parking in the street and a car park at the side of the hotel – entrance from Napier Street
Train
It is within walking distance from the Footscray Rail Station
The Sydenham, Werribee and Williamstown lines service the Footscray Station.