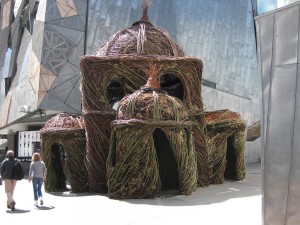 This is the most amazing structure to come across at Federation Square.  It is part of the 10 year birthday celebrations.
Patrick Dougherty has created this masterpiece out of materials that would otherwise have been burned – a sort of recycling project.
It is made from willow tree sticks and saplings – the same willow that can be used for cane baskets that are often a specialty in parts of England.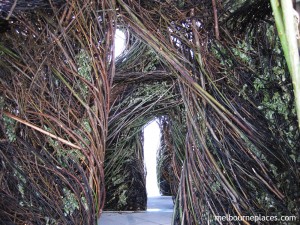 In Victoria the beautiful willow has become a weed, blocking waterways and effecting the water quality with its roots.  This reduces areas where the platypus and other native species of Australia can make their home.
Most of the raw material – the willow saplings and sticks – has been supplied by Melbourne Water.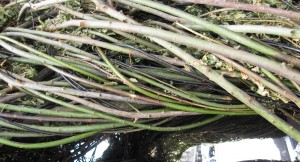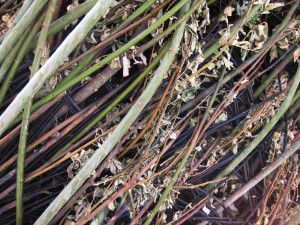 To bend all these pieces and fit them together it seems that Patrick Dougherty only needs gloves and secateurs.
He got his inspiration for this sculpture from Flinders Street Station and St Paul's Cathedral.  It is interesting to look at the sculpture against the back drop of St Paul's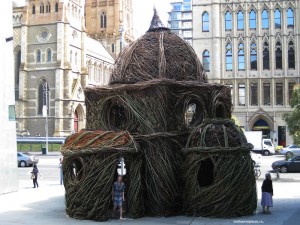 Where:-
Flinders Street side of Federation Square.
When: Until early 2013
For more information on Patrick Dougherty and his stick sculptures you can check out his web site here.
An article written in 2010 for the New York Times about Patrick Dougherty and his work  is available here