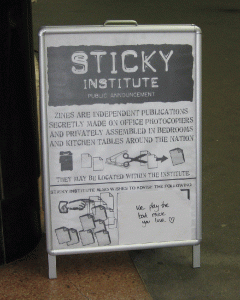 The Sticky Institute was a great Melbourne Place to find.  I came across it one day when I was hurrying through the underpass from Degraves Street to Flinders Street Station.  I ducked into the subway under Flinders Street to speed up the journey and came face to face with the sign. I pulled up short, stared and trotted in and was so absorbed I missed my train.
I hadn't heard of a zine before. It is pronounced 'zeen' and is a small, self published magazine with a small circulation and is usually reproduced by photocopier.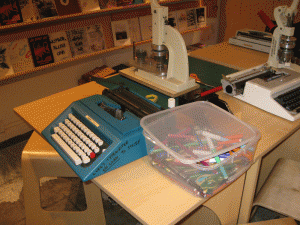 You can make your zine at the Sticky Institute.  I haven't made a zine yet but I enjoy browsing though the dozens on display and always buy one or two.  For a couple of dollars, and that is all they are, you can share someone thoughts and get a peep into their world. The zines come in all shapes and sizes and they are a personal publication straight from the author's mouth as it were – there is no editorial input.  The ideas, the style of presentation, the layout and illustrations are the authors.  Zines give complete freedom of expression and allow anyone to express themselves.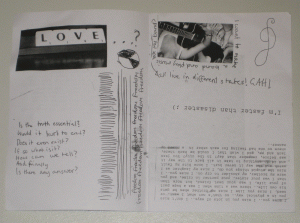 This is called 'Mixed up Files of an Unusual Teenager's Brain' and made at the Sticky Institute. It comes with a badge which  was also made at the Institute.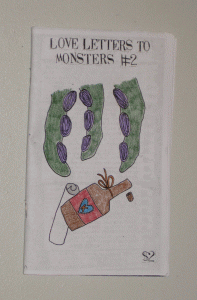 This is an American zine 'Love Letters to Monsters #2′ and sold here in Melbourne.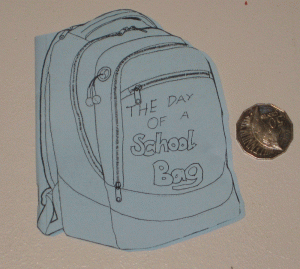 Zines can be any size or shape you like.  This is locally made zine is called ' The Day of the School Bag.'

Anyone can use the The Sticky Institute's shop/workshop to make their zine or badge.  You can also spend as long as you like browsing and reading and when you feel the creative urge talk to the staff.  They are mostly volunteers and of course love the world of zines.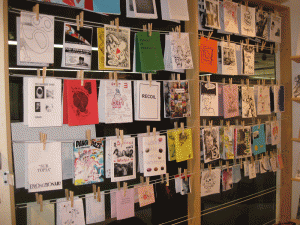 The most you pay for a zine is $5.00 but many are just $1 or $2.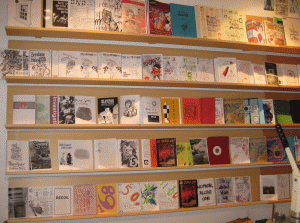 The Sticky institute is alive with creative energy and music.  This is often intensified by the rumble of a passing train, just to let you know you are underground.
The shop/work space has been around since 2001 so it definitely works as a creative space . On the shelves you can find zines from all around Australia and the world.
Getting there:-
Shop 10 Campbell Arcade
Degraves Street
Melbourne   Phone 9654 9559
If you are getting off the train use the center stairs and find the exit to Flinders Street.
If you are on Flinders Street duck down the subway, opposite the side entrance to the Flinders Street station, at the end of Degraves Lane – there are two entrances.
Opening Hours:-
Monday to Friday
12.00 (noon) to 6.00pm
Saturday 12.00(noon) to 5.00pm
Sunday closed
CAMPBELL ARCADE IS CLOSED ON SUNDAY.
Find out more about the Sticky Institute from their web site here